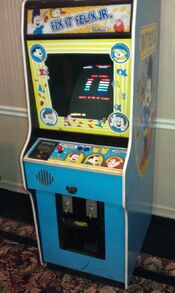 Greetings Wreck-It-Ralph Fans!
Today, Thursday November 1st at 5:00 PM PST/ 8:00 PM EST, there will be a battle of epic proportions! Twelve custom-built arcade cabinets were made in honor of Wreck-It Ralph coming out to theaters nationwide tomorrow, and are traveling the country right now. Titled "Fix-It Felix, Jr." just like in the movie, the game will be played head to head by none other than rivals Billy Mitchell and Steve Wiebe, both long time professional classic game record holders and stars of the "King of Kong" film that recorded their rivalry.
To follow the battle, be sure to visit Facebook and Twitter
Don't miss it!
---
---