Twenty years ago today, Disney unveiled a brand new film short of the 90's starring Mickey Mouse.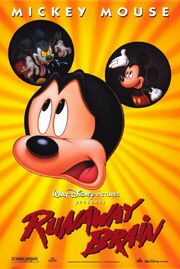 In this film, Mickey tries to afford a trip to Hawaii with Minnie by getting a job. Unfortunately, he gets a brain transplant instead with a monster named Julius (who's a monster version of Pete).
There's a gag in the short where the mad scientist's name is Dr. Frankenollie, an in joke tribute to Disney animators Frank Thomas and Ollie Johnston. He's voiced by Frasier's Kelsey Grammer.
I know this was originally featured in international theaters with A Goofy Movie but this is for when this awesome Mickey Mouse short was featured with the not so awesome movie A Kid in King Arthur's Court.
Feel free to write what you think anytime.