The Kingdom Celebration- Party Crashers....Once Upon a Time...
I mean come on, I wouldn't want some evil lady to ruin my birthday! She comes up out of no where and gets all mad because she didn't get the invite on facebook or whatever they used back then. So what dose she do- poor young Aurora, Maleficent puts a curse on her saying on her 16th birthday, the blonde beauty will prick her finger on a spinning wheel. Not bad except the dying part- yeah- she wants her dead. agian poor defensless Aurora can do nothing about it. But hope is not all lost, The Three Good Faries, Flora, Fauna and Merry weather take young Aurora from the King and Queen in order to protect her Maleficent's evil and wicked spell.
They find this cottage in the woods and raise for at least 18 years-no 16, 16 years they rasied her as their own. This was pretty clever at first they were going to turn her into a flower, thank godness some people were smart back then. So meanwhile. Maleficent hasen't slept for 16 years because she can't help the fact that her minions can't find the princess in time for her to cast her spell. This is probably one of the most funniest Disney moments I can remember. For 16 years her minions, which are pigs and birds in armour, were looking for baby Aurora. No, no, no- this was the ultimate fail in the history of ultimate fails. Apparently they didn't know the simple concept of being born and growing up. Maleficent gets mad and sends her "pet" the black crow to find the 16 year old version of Briar Rose. You would think the villian would be smart enough to hire smarter minions.
At the cottage
We meet Aurora, beautiful, blonde and has a great voice. I forgot to bring up the fact that Flora and Merrywether gave her the gifts of beauty and song. Wish i had faries to give me special traits like knowledge and common sense. Oh HAPPY BIRTHDAY AURORA! HOW OLD ARE YOU? 16, yup today is going to be the happeist day of her life- Her Aunts(faries) send her out to pick berries. Which she did yesterday- this is where the gift of common sense would come in, I would be supicious if I were sent to pick berries two days in a row. So while she is gone- the aunts prepare for her suprise party- Fauna is making the cake, Flora is making the dress(of all colors, pink) Merrywether dosen't like pink- she likes blue. From that point its War of the Dress Color. Poor Fauna can't bake a cake she depends on magic to do it for her.
In the woods
Aurora walks gracefully bear-fotted, She is so poised and graceful with her walk I can't even describe how I loved it. Anyway, she starts to sing opera-high notes! she makes the birds sing- and what would a princess be without animal friends? the creatures of the forest are the closet and nicest friends she could have ever met. They sit down and listen to her talk about her dreams, and her beautiful singing- when I try to sing the birds fly away from me, and when I share my dreams the dogs and cats start fighting. ON point....she shares her dreams of her true love finding her one day and sing a love song to her. Ironically like a few minutes later we meet Prince Phillip...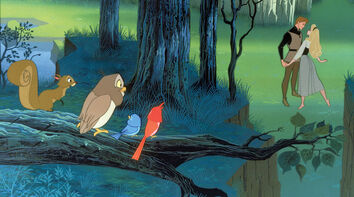 Once Upon a Dream....
,Prince Phillip- you will see is one of the most BEST Disney Princeses ever! Yeah so anyway, Phillip is riding Sampson in the woods, we don't know why....And hears Aurora's beautiful voice, this won't be the first time a boy is attracted by a girls singing, cough* Little Mermaid cough*. They soon run into eachother- in movies today if you ran into a complete stranger in the middle of the woods you WILL scream and run away, but it's a movie. This is SOOOOO ROMANTIC!!!! Aurora dosen't know the prince is a prince and Phillip says he saw her before- in her dreams " I KNOW YOU I WALKED WITH YOU ONCE UPON A DREAM, I KNOW YOU THE GLEAM IN YOUR EYES IS SO FAMILIAR A GLEAM! DA-DA-DAAA-DA-DAA-DA-DA-DA-DA-DAAAA-DA-DAA-DA-DA-DA-DA-DAAAAA-DA-DAAAAAA-DA-DAAA-DAAA-DA-DAAAAAA-DA-DA-DA-DA-DAAAAAAAAAA-DA-DA-DA-DA-DAAAAAAAAAAA- UPON A DREAM! and they dance away into the forest and Aurora's dreams are finally coming true just like in her dreams.
Princess Aurora...
Aurora, when Phillip or to her this stranger asked her for her name, she suddenly remembers! ITS HER BIRTHDAY AND! so she runs away and says to Phillip to meet her at the cottage in the glen...Aurora returns home to her suprise finds her BEAUTIFUL(cough* BLUE) ball gown and her birthday cake. Her Aunts finally tell her that she is the Princess of the King and Queen and must return home immediatley for the celebration. But Aurora has a suprise for them as well. "Like i meet this really nice boy today!". Aurora is not allowed to meet strangers which was only to protect her from the impending danger of Maleficent's spell. Aurora starts to cry and is heartbroken to hear that she can't meet Phillip agian.
At The Castle...
Prince Phillip returns to the kingdom to tell his father- King Hubert that he meet a pesant girl. He didn't like this idea he oppsed to the idea that his own son was in love with someone outside of ROYALTY. Oh yeah he also has plans to build 10000000 bedrooms for the new couple.....he's RICH. So anyway the faries bring Aurora back to the castle- where Flora gives her another gift, her crown to show her rolyaness. But Aurora dosen't like her new life and is still saddend by the fact she can't see her new boyfriend anymore. The faries leave her alone BIGGGG MISTAKE!!! to let her tears out.
The Spinning Wheel...
Remember on Aurora's first b-day when Maleficent put a curse on her to prick her finger on a spinning wheel and die? and then sent her bird to find her when her minions falied to? Well her "pet" found the princess and Maleficent couldn't have been anymore happier when she saw her crying her eyes out...CUE CREEPY THEM SONG! Maleficent hypnotizes Aurora up the tower. The faries here the creepy tune and try to save her before it was to late, this is why you shouldn't leave people alone when people are out to hurt them. By the time they reach the top it's to late- Aurora is lying on the floor and Maleficent can finally sleep after 16 years. The faries or Flora decide until Rose awakens they will put the whole kingdom to sleep.......
Merrywether's gift...
I forgot to bring up that while the good faries were giving their gifts...and after Maleficent crashed the party, Merry gave her gift that only true loves kiss can awaken her if she is caught in Maleficents spell...which she is NOTE: THIS SPELL BREAKER HAS BEEN SEEN IN MANY OTHER DISNEY FILMS- Beauty and the Beast, Princess and the Frog, Snow White- ALL HAD LOVES FIRST KISS!
Back at the Cottage...
Are AWSOME PRINCE is hoping to meet the Princess at the cottage riding on his nobel horse strong and tall....yet agian MALEFICENT crashes another occasion and kidnapps the prince and takes him to the Forbidden Mountian where she plans to hold him a prisoner for 100 years- HOW COLD! THIS IS WHY MALEFICENT IS ONE OF THE MOST WICKED DISNEY VILLIANS EVER!
Meanwhile at the Castle...
Flora discovered that Phillip was the boy that Aurora was in love with and the faries set out to save the prince from THE FOBIDDEN MOUNTIAN! DUN-DUN-DUNNNNN!!!!! they find Maleficent's minions celebrating maybe their only achievement ever....around a bon fire and witness Maleficent leave the scene to tell Phillip of his tragic future. After Maleficent leaves Phillip The faries arrive to save Phillip and give him a sword and shield MAKING HIM THE BEST PRINCE EVER!!!! blah blah blah- they try to escape the castle maleficent tries to stop them by knocking down boulders and breaking the draw bridge- AND OF COURSE NOTHING UPSETS VILLIANS MORE THAN THERE PETS BEING KILLED!!! OR STONED! This made Maleficent angry and she sends a forest of thornes to surround The kings castle " ROUND STEPHEN'S CASTLE- CAST THY SPELL!" Phillip being the AWSOME prince he is uses his sword to cut the the branches out his way....THIS IS WHERE IT ALL ENDS!
Slay the Dragon!....
THIS IS WHY PRINCE PHILLIP IS THE BEST DISNEY PRINCE OF ALL TIME AND ALWAYS WILL BE! Maleficent turns into a gigantic fire-breathing dragon which I'm sure at the time nobody was expecting! THIS IS A REAL FAIRYTALE! Phillip uses all his might to take down Maleficent. But when all hope seems lost Flora uses the power of good and uses agianst Maleficent- Phillip Throws the sword toward Maleficent she falls of a cliff and all that remained was the black cloak that she wore...peace was brought back to the kingdom.
Aurora awakens...
Phillip our noble prince races to the top of the of tower to find the peasent girl, Briar Rose, Princess Aurora the Sleeping Beauty- fast alseep. Phillip kneels down and kisses our Princess...and the kingdom awakenss.
The Princess Arrives...
Aurora and Prince Phillip, walk down the steps towards the ball room. AFTER 16 YEARS AURORA CAN FINALLY HUG HER PARENTS AND THE KINGDOM CELEBRATES!
Aurora and Phillip begin to Waltz into the clouds- and lived happily ever after.