The reason why I chose this topic STITCH disney, because I really liked everything on the stitch. stitch I think it's funny, is my favorite color. I've got a collection of Disney STITCH. although not too much.
my collection I got from some store in the city of Makassar, Indonesia. those that are provided by my relatives. There are photos of my collection STITCH Disney.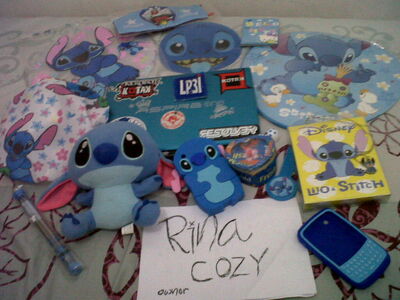 Okay, let's discuss a little about STITCH Disney.
Lilo & Stitch is one of the few Disney films that take the background of the story in modern times; other films are the One Hundred and One Dalmatians (1961), The Rescuers (1977), and its sequel, The Rescuers Down Under (1990), and Oliver & Company (1988).
Lilo & Stitch begins production after Michael Eisner, who was CEO of Disney decided to try making a small animation film that is not too expensive. Earlier, the film production of Disney's animated big screen during the mid-1990s have always been made on a large scale with a large budget. Inspiration to make an animated film from the economically produced Disney movie Dumbo in 1941. Before Dumbo, Disney produced films that are more expensive, such as Pinocchio and Fantasia. Chris Sanders, head of the storyboard artists at Disney Feature Animation, was approached to be asked for his opinion. In 1985, Sanders has created a character named Stitch for children's books that did not sell well. He still intends to revive the character Stitch, and produce animated films about Stitch. Rural areas in Kansas was originally chosen as the location of Stitch animated film, meaning that Stitch could interact with other characters while in a fairly isolated location, and does not create more damage. Decision to change the background story to the island of Kauai in Hawaii will make the plot more clearly evident. Previously there was no animated film using the Hawaiian Islands as the location of the story. According to Sanders:
   "Animation is usually took the background story in ancient, medieval Europe, like so many fairy tales, the selection of Hawaii as the location of the story is a breakthrough. But the choice turned out to give a new color for the entire film, and forced us to rewrite the story. "

Dean DeBlois who also wrote Mulan (1998) with Sanders, called for co-wrote and directed Lilo & Stitch, Disney executive named as a producer Clark Spencer. Unlike the production of Disney Feature Animation ago, preproduction Lilo & Stitch is only handled by a team that is still relatively small and isolated from the upper levels of management until the film goes into production phase. Set design and artistic depictions of the character based on the typical style of Chris Sanders.
When the animation team visited Kauai to research the local situation, tour guides explain the meaning of ohana that is the concept of family among the people of Hawaii. Ohana concept eventually became an important theme in these films Stitch. DeBlois said:
   "Everywhere we went, our tour guide seemed to know everyone. He was the one who explained to us the Hawaiian concept of ohana, family feeling that continues beyond our close relatives. Concept of ohana so influenced this story until we make it as a theme the basis of [the movie Stitch], as well as feelings that make Stitch would change his attitude, though different from his original purpose was created, namely to destroy. "

Kauai Island has previously been used as the location of films such as Raiders of the Lost Ark and Jurassic Park trilogy. Disney animators face the difficult task in preparing the plot of this film that mixes the beautiful state of Hawaii Island with the lives of poor and non-intact families who lived west of Hawaii and the people who live in times of recession. Voiced for Nani and David is a native Tia Carrere and Jason Scott Lee Honolulu who grew up in Hawaii. They both also helped rewrite the dialogues into colloquial dialect of Hawaii and Hawaii add slang.
Sanders and DuBlois choose to deviate from habits that have been undertaken Disney for decades. Both chose to use a background that was painted using watercolor paint and not use water gouache.Cat actually been used for short animated films in the early golden Disney Disney, including the long-length animated film Snow White and the Seven Dwarfs (1937) and Dumbo . But the watercolor technique is not used anymore since the mid-1940s, and replaced with a less complicated gouache than watercolor. Sanders prefers watercolor for Lilo with a view showing a bright color picture book and follow his achievements in the arts as well as the film Dumbo. As a result, the artist drawing the background must be retrained to use watercolor. Design of the characters in this film based on the typical style of drawing away from Sanders and traditional style of Disney. Space elements in this film, including space planes, drawn to resemble marine animals, like whales and crabs.