Hi guys. Over the past couple years, there have been Disney apps I have been using daily, and tonight I want to talk about them. They have been really fun and I want to talk about them.
App #1: Frozen Free Fall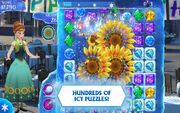 So when I saw this on the app store, the first thing I thought of was matching in a row. It wasn't quite the game I thought it was (but to be honest, I forget what it was) but for what I got, it was a boat load of fun. I liked how the winter portion made levels as if we are going through the entire film. From Kristoff's childhood ice harvesting to Elsa bringing back summer, I was going everywhere. I admit, I was very surprised to see Hans as a playable character, knowing the badguy he is. Some levels were tricky enough, but the toughest ones were getting rid of the wolves. It takes a miracle to get through those-and by miracle, I mean a power-up. There have been plenty of times where I got WAY too close to beating the levels and I just had to get a snowball or an ice pick, or whatever. There are also seasonal levels to play during holidays including Halloween and Christmas. Speaking of which, does anyone else think that blue hungry ghost looks like Bloo from Fosters Home For Imaginary Friends? Anyway, there's also an endless string of levels so you don't necessarily have to retire. All in all, as long as you don't get financially carried away with the power ups, you should be fine. If you're a Frozen fan and like match 3 games, I think you'll enjoy it.
App #2: Inside Out Thought Bubbles

The first thing I thought of was that upward shooting game where at least 3 colors have to match, much like a Kim Possible themed game I once played on the internet. So since that is a fun game and since Inside Out is my favorite Pixar film, it was only natural for me to download it. This time though, the levels don't act like we are going in order of the movie, they go by all the locations of Riley's mind; Headquarters, Dream Production, Tragic Vampire Island, and so on. I was very eager to hear all the quotes of the emotions when I succeeded or failed. Some levels were pretty easy, others...not so much. Much like Frozen Free Fall, I sometimes got so close to beating the level, I just couldn't start over. Some side effects like those black holes or those spike ball thingies were just so annoying to put up with. But hey, you also got pretty cool power ups, like Bing Bong's extra choices, Rainbow Unicorn's rainbow thingy. It was also very matching to see the emotions' power ups match with their style, particularly Joy's sunshine burst and Anger's fireballs. Pretty great huh? I know I am really having fun with it.
App #3: Emoji Blitz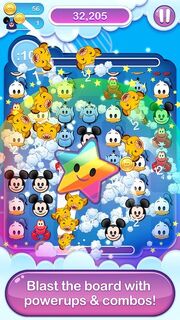 This one is my current App fad. I am determined to get some of these Disney emojis in my keyboard and see what they can do. Seeing those Disney emojis are just so darn cute! Matching 3 is always a fun game style, and seeing those powers are really fascinating. It's more useful when I am using characters who remove emojis from the board. However, my only major complaint is that when I buy a silver or gold emoji, I don't get to pick what I want. Sometimes I get an emoji I don't want or a power level upgrade for an emoji I already have. It's a little dissapointing but I plan on keeping trying until I get them all-particularly Anna and Elsa. There are also some difficult missions they assign me, but I use gems to get out. But overall, Emoji Blitz is a very fun app.
App# 4: Disney Movies Anywhere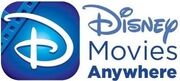 Ok to be honest, I was not so sure if this app was going to be alot of use to me, mainly because I already have most of the Disney films I want on DVD. But I decided to give it a try, and I even got a free digital copy of Monsters Inc. I have often bought some movies from Itunes even if I already had them so I could get to them faster and take them more portably and easier (besides my laptop's dvd hard drive is broken down. The digital movies I downloaded such as Wreck-It-Ralph, The Incredibles, and Inside Out have also given me extra features, like deleted scenes, shorts, and more. It didn't take up space on my Ipad-that is unless I were to download them. And speaking of which, as I was exploring the app I found out that it doesn't really work without Internet, which is my only complaint about this app. Which is a shame because I thought it would be useful for the plane or car. But don't worry-I put some of them as well as some non-Disney films on my phone just in case. I don't think I'll be using this app much longer to a Hard Drive limit on my computer and becasue I don't really use the other digital services. But for what I got, I think I have enough Disney films in there to keep me afloat. Using it was actually very fun. Give it a try if it sounds interesting enough to you.

And that was my blog on apps. I hope you enjoyed it and that some of these apps you might consider downloading. I'll see you next time.