Hey guys. Today I am making a countdown of the top 10 little kid shows. As most of us know, when it comes to grown ups deciding what kids should watch, they always prefer to have us start with something age appropriate. There is a lot of knowledge gathered from psychologists that are used to teach children about the world around them. You got to start as a small infant, then work your way up. And these shows had educational value to any young child, toddler or preschooler. Since I happen to be an Early Childhood Major in Community College, it would make sense for me to do this. Also, this list will have a mixture of shows from PBS, Nick Jr, and Playhouse Disney. So since this is a Disney Wiki, I think that sounds like a reasonable compromise. Plus, I love to talk about childhood nostalgia.
#10: Teletubbies

While most little kid shows were more based for preschool-age kids, toddlers needed something to look at. There's not a lot to say about its premise, but these cute Teletubbies seemed like good toddler examples. Toddlers do want to just wander and discover around. I did obviously fade away from it as I got older like any kid would, but the Teletubbies themselves were pretty delightful. I see them making messes, interacting with their talking vacuum, and their was one other episode I liked where the Teletubbies were supposed to be napping, but one would be out playing with their special items. I'd call then Tele-buddies if they were real and interacted with my baby cousins.
#9: Liberty Kids

As impressive as this show is, I had to put it low on the list because I haven't watched it when it was on and running. I mean, I did get a vague glimpse of it, but not enough. I finally saw it 2 years ago, because my grandma was channeling, and she wanted to see it herself, and I was kind of interested in it. Plus, I had to wait for my brother to take me home to double-feature "The Lion King" and "The Secret of NIMH" with a friend of mine. I wanted to see what else there was on this show, and I watched a bunch of its episodes around the same time I became a user on this wiki. And let me say, this is one of the best ways for kids to learn about the American Revolutionary War. It has that serious tone like anything involving a war, but it wasn't too dark or gruesome. No blood, no intense violence or anything like those (at least not on screen), and the pain of losing someone in death. I know, because my uncle died a week before I re-discovered this show. It taught everything kids needed to know about this war; the Boston Tea Party, Bunker Hill, the Declaration of Independence, how the soldiers felt, Slavery, the list goes on. Its one of the few PBS Kid shows that can be somewhat equal to adults and kids. While its no "Star Wars" or "Avatar-The Last Airbender", the war storytelling here is very well done.
#8: Bear in the Big Blue House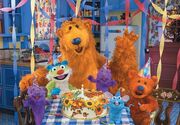 The next three parts on this list will be shows from Playhouse Disney, and the three that I am most familiar with. And I will start with Bear in the Big Blue House. It always starts with Bear sniffing at us that made me feel tickled and tingling. Then he proceeds to show us the subject of the episode, whether a certain food, object, or even a feeling. He also showed us how his friends are involved with them, like that other little teddy bear, that lemur, those twin otters ( who cracked me up by saying how much they loved or disliked something in unison), Tucker the mouse, and even a talking shadow. One thing I thought seemed a little extreme in a child's mind was not wanting to be friends over a broken toy- and the episode about love showed an example like that. But as long as there is an adult to guide us from that, kids will have a better understanding of interactions.
#7: Rolie Polie Olie

There's not too much to say about this show, but seeing a world populated by robots ( you know, WITHOUT a scary invasion) and Rolie Polie himself was a pretty cute character himself. I will say though, there was one episode I remember where the kids imagined themselves as grownups and the parents acting like kids. All the kid stuff like jumping on the furniture or having sweets for dinner seemed to be the grown up stuff, and what the grown ups wanted to do were considered "childish." That's kinda funny to imagine. I'm sure we all wanted it that way. Nice.
#6: P,B, and J Otter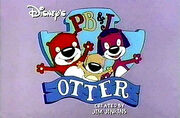 I'd say out of all the shows I watched on Playhouse Disney, I'd say I liked this one the best. The idea of our three main characters being named after a delicious sandwich was appealing, and these otters were really cute too. Like most little kids' shows, these kids were trying to solve any problems that came in their community. Every episode had Jelly convincing everyone to do The Noodle Dance. Although some ND ideas didn't go through, at least it encouraged them to think towards problem solving. And there was a pretty catchy song once in a while throughout the show, kind of like The Little Mermaid show. These three otters were delightful to watch.
#5: Thomas the Tank Engine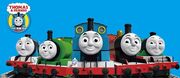 For those of you who have been around any little kid, babysitting, or from a family, I am sure you might have seen them playing with a toy train, or going "choo-choo", you can probably tell that trains have bestowed fascination on children's' minds. So it made sense for there to be a show based on talking trains. We remember a lot of characters from watching it as little kids, like Thomas, James, Gordon, Percy, Toby, sir Topson Hat, that bus, the helicopter, the list is endless. A lot of the episodes center on the trains doing their train duties, sometimes cheerful or mopey like a lot of school kids. And then the trains do whatever their jobs were, and stuff. An element I liked seeing was the crashing much like my little cousin. The crashing just made me laugh and it showed the consequences of disobeying an order or warning. And speaking of which, my little cousin that I just mentioned loved this show when he was about 2 or 3 years old. He would pick a random train card from his deck every day and whoever was on that card would be the train for the day. Monday could be Mavis, Tuesday could be Henry, Wednesday could be Toby, and so on and so forth. What else can I say? There has never been a train like Thomas.
#4: Barney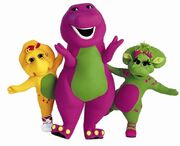 Ok, I know the general public has a love/hate issue with this show, but hey-I am sure most of us loved this show when were really little. Besides, I always thought this was a good example of a little kid's show. It was really great to see Barney as a toy, but then magically comes to life, the kids are very happy to see him, and then the gang would learn about the subject of the episode, like money, the beach, dogs, safety, and so forth-all through the magic of imagination. Sometimes they were joined by Baby Bob (whose initial design kinda creeped me out) and BJ And seeing how some grown ups got involved once in a while, and interacted with Barney, it told me that Barney was not imaginary. He was real, or until he decided to be a toy again. Also, he was a beloved role model for the children, always giddy, cheerful, having the solutions to any problems that happened. How is possible for little kids not to like this guy? And speaking of which, I also wanted to say that most of us are being too harsh on this show a lot, sort of like how some people tend to jest at the widely popular Spongebob and Frozen. I mean, it is educational , and child friendly, like what a PBS show should be. And we also don't want to make the little kids feel guilty for loving this show. But the ironic hypocritical truth is, I'm one of those jerks whose made fun of Barney once or twice in the past. But to be fair only in hand drawings that no one on the internet can see. I will admit, the one problem I've ever had with Barney even as a little kid was the constant singing. Anything that comes up with a song every few minutes or so annoys me, including Mary Poppins and musical plays. But hey, maybe little kids love to sing. Besides everything else in this show is just as it should be for a child. Its one of the few little kid shows I claim as a "little kid classic". I may be naturally too old to enjoy it as much now, but the memories of it are just as fun.
#3: Blue's Clues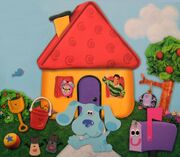 This show was certainly a lot of fun. You try to figure out what a blue dog wants that involves a certain subject since she can't just speak it out. And the rest of the episode is a fun-filled scavenger hunt, interacting with other characters like the pail and shovel, the alarm clock, and more. Along the way, children learn how to sort, solve puzzles, and more. When the clues are found, it was fun for kids to try to guess what the thing Blue wanted. My favorite part of every episode was when Joe or Steve went inside a painting or a book or whatever. And once the item with Blue's clues were figured out, everyone would celebrate at the end. Scavenger hunts are really fun for kids. They help move the thinking gears, they teach, and more awaits.
#2: Sesame Street

Sesame Street, what can I say? Its still airing, you all know the puppets, new generations are being introduced, even grown ups still like to talk about it. What's considered even better than learning letters and numbers? How about learning letters and numbers with puppets? We all know most of these cute delightful puppet characters-Big Bird, Elmo, Count, Telly, Ernie and Bert, Oscar the grouch, Cookie Monster, the list is endless. Every episode is an hour long, involving the main problem and other segments that involve showing what the letter and number, as well as some short happenings with the other characters that teach about shape, thinking, and more. In addition, what makes this even better than a show like Barney is that there are a lot of pop-culture jokes here and there. For example, there was a "Number-Con" episode I peeked in on that was a parody of a Comic-Con. Elmo is dressed as the "Dark Nine", "Five-erine", "The Green Lan-ten", and so forth. It all makes adults want to watch this show with their kids so they won't feel too left out. Before I move on, I just want to say that I have been looking at those "Crumby Pictures" segments. Not only are they funny parodies to famous movies, but they teach us and Cookie Monster about social lessons, shapes, self-control, all that stuff. I really liked that "Star Smores" one. I don't know what else to say about Sesame Street. It's truly a "little kid classic."

Now I know what you are thinking? What other little kid show would possibly top it. Well, this list is just opinion-based. So the number one greatest little kid show is...
#1: Arthur

Out of all the little kid shows ever aired on TV, Arthur is the one I have loved the most. Its' format just feels like a mixture of a little kid show AND a big kid show, not only because its one of those double-segment shows. Also, I liked how despite everyone being anthropomorphic animals, the situations are realistic and deal with issues that we'd all have to face, like bullying, dealing with siblings when too difficult, a new baby coming, business competition, and a bunch more. Plus, Arthur himself is likable character. He does make mistakes once in a while, but he still acts like a normal kid model for us (except for a few occasions). Another thing I should point out is that Muffy and Mr. Ratburn are supposed to represent the "rich spoiled girl" and the "mean teacher" stereotypes, it turns out they aren't. She always seems to hang out with the gang most of the time, likes to be fashionable, acts a tiny bit snobbish in funny ways, and she doesn't seem to show true disdain to less rich people. She is pretty decent,and more of what Penny Peterson from "Mr. Peabody and Sherman" should have been like. Mr. Ratburn may also seem like a stereotype, but he does not treat his students harshly, even if he does assign a lot of homework. His goal is to get his students to do what they have to do before the wants. He is even seen joining fun activities, like a camping hike, or a walk for Autism. And speaking of autism, there was an episode that taught me how to interpret autism and to teach it to others. I never told anyone this before, but I am one of those people with autism, and I was glad they made they made that episode to explain it. Pus since I am an Early Childhood major, I would have to learn that to teach classmates about accepting differences. There's not else for me to say, other than the fact that I loved this show as a little kid.
And those were the top 10 best little kid shows. I hope you enjoyed this list, and that maybe you will show these shows to your children (if you have any) or any other teeny tiny tots you know.