Link titleHo Ho Ho! My fellow wikians! It's almost Christmastime! For those of you who celebrate Christmas, are you excited? I know I am! I have been thinking of doing a top list for my favorite Christmas specials that I like to watch. I wasn't too sure at first, but then my good friend Cleveland Monster made one of his favorites and so I felt inspired to do so. I love watching Christmas specials, especially the Rankin/Bass classics and the Dreamworks specials. Rankin/Bass gives me a taste of the classic past while the Dreamworks specials give me something special in the modern times. Now I know there is another wiki about Christmas specials, but I don't have enough to contribute there. But I am going to tell you what my 12 favorite Christmas specials. So let's go down the chiminey and see what I've got!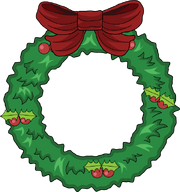 #12: Santa Claus Is Coming To Town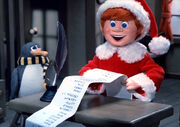 Ok, I will admit-out of Rankin/Bass's iconic 3 Christmas specials, this one is probably my least favorite. It's not terrible, just not as special as other specials I like. Plus, I hated (and still hate) the Burgermeister Meisterburger for outlawing toys, which was my favorite thing as a kid. So you must be wondering, why did I put it on the list at all? Well, I give it credit for explaining the origin of Santa (or, AN origin anyway), and how the "commercial" Christmas traditions came to be. Kris Kringle's main goal is to make the poor abused children of Sombertown happy. It wasn't just about giving children something to play with, it was also about giving love and care, especially to reward those who show kindness. Even though fighting through brutalities to create something wonderful was so difficult, much like what Walt Disney went through, good old Kris Kringle created something special and new about Christmas. It can be difficult to invent a new special thing, but you stick to it, it's possible. So while I don't love this one, I don't mind coming back to it sometimes in the Christmas season.
#11: It's Christmas time Charlie Brown!

Ok, I admit, I am not a die hard fan of Peanuts like most people are. But like most of you, I have to admit I grew up with this special too. I liked seeing a simple Christmas special celebrated by young children. There were some nice and cute moments here and there. Plus, most people are sucked in to the whole commercial racket of Christmas as opposed to the Bible stuff (including me due to unpleasant church memories), but Linus explains it in this one which inspires Charlie Brown to take his mini tree home even though his classmates bullied him for bringing an "un-commercial" tree. And speaking of that, the kids putting CB down for the tree is the one thing I really don't like about this special; I just think it's too mean-spirited. And unfortunately, the mean-spiritedness and depressing atmosphere is pretty much why I'm not much of a Peanuts fan. But still, I liked watching alot of other things about it. The version of "Hark the Harold" at the end is usually the first version that comes to mind. So do I think it's the greatest thing ever? Not really, but it's cute. Who could possibly go through Christmas without watching this one at least once in their childhood?
#10: Pinocchio's Christmas

If I had to choose a favorite version of Pinocchio other than the classic Disney one, then that would definehtly be Pinocchio's Christmas. It has a lot of charming story elements that are from the book without being too dark and gruesome, and the Disney version (except for becoming a real boy). As you may have guessed, Pinocchio wanders off before Christmas and goes through a mini series of adventures trying to find a Christmas gift for Geppetto. It taught me that the best Christmas doesn't need to be paid for with money; it's paid with love. There is some comedy from a sassing cricket who, unlike in the book is not killed, acts more like a sarcastic partner than the lovable Jiminy Cricket we all know. There is a puppeteer in this special who is antagonistic, but he doesn't lock Pinocchio in a birdcage like Stromboli does, he accuses Pinocchio of thievery and fires him. Now I will admit, most of the songs here are corny, but the only two that are catchy are "Knock on Wood" and "Dancing". Also, "Put your love in a poem" is very sweet. I don't want to give too much else away, but I will say my favorite part is where Pinocchio teaches a snobby Duke about Christmas gifts for his two neglected children. So on the whole, Pinocchio's Christmas is certainly worth a reccomendation.
#9: Elf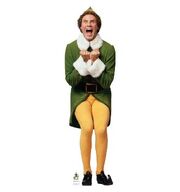 There is only one adjective I can use to describe this film: HILARIOUS! Will Ferrell is such a comedian, he never fails to make us laugh when he's Buddy the elf. There are a ton of funny moments I can't stop laughing at; Getting attacked by the raccoon, fighting the fake Santa, eating maple syrup with spaghetti, the revolving door, the list goes on! And of course there is plenty of heart as well. It's necessary due the fact that well..., pretty much everyone in New York City seems depressed, gloomy, and colorless which is the exact opposite of the North Pole. Buddy gets into social trouble a lot, but by the end his optimistic cheerful personality spreads joy to those everyone around him such as his stick-in-the-mud dad, his biological step-brother, and his girlfriend. Due to my delightful Christmas spirit, and my eager tradition to get Christmas decorations down from the attic on Black Friday, my mother has dubbed me as the "Buddy the Elf" of the family. So what makes Elf spread Christmas cheer is it's heart and of course its comedy. So if you want a Christmas movie with heart and "naive" comedy, Elf is probably what you are looking for!
#8: Gift of the Night Fury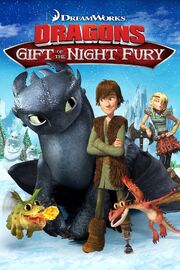 Ok I have to admit, I've had mixed opinions about the original How To Train Your Dragon film. The negatives were centered on some of the awkward interactions, but the positives were on the epicness and the animation. But this special took a good step for me in the franchise (and an even better step with the 2nd film). Like Hiccup, the name for the Viking version of Christmas "Snoggletog" sounded ridiculous to me. But that's not the focus of the special-the focus is on its heart and comedy, as usual. At first it's a new Soggletog beginning due to the end of the dragon war, but things get disappointing when the dragons leave to hatch eggs. It teaches Hiccup and the rest of Berk what the dragons do around the Holidays. Hiccup makes something for Toothless to overcome his disability, but he still prefers to fly with Hiccup. Like Pinocchio's Christmas, it's the thought that matters most. My favorite part of is when Astrid overdoes her new Snoggletog tradition ideas with the exploding eggs. The reactions on her face are great! I never thought I'd see her mess up like that. Overall, Gift of the Night Fury has plenty of charm and funny moments that make a Happy Snoggletog...even though I have no idea where they got the idea for the name!
#7: Shrek the Halls

This is the kind of story I think Beauty and the Beast: The Enchanted Christmas should have been like. Shrek has no interest in Christmas, but once Fiona seems happy about her first Christmas with Shrek, that ogre realizes he has to give his family a wonderful Christmas or it will get embarrassing! Shrek the Halls teaches us that there is no right or wrong way to celebrate Christmas. You just celebrate it and be happy...even though having to get egg nog, presents, and decorations got really tempting like that crowd panic or when Donkey gets carried away. Like the other Shrek entrees, there's some gross laughs in it as well-like when Ogre Claus picks his nose, or Gingy barfing a chocolate chip-Ha Ha! I love that part! My favorite moments are when Donkey keeps popping out of nowhere in the beginning and getting excited about Christmas-as well as that Waffle Santa moment! Ha! Ha! Ha! So have a merry Christmas and a gross night..er, if you are spending Christmas with an ogre.
#6: Merry Madagascar
If laughs are why you think I've put this one on the list, then yes you are right. Most specials where Christmas gets in danger of getting cancelled often worry. However, these Madagascar characters make it too silly to worry about. I love their clumsy attempts to deliver gifts the way Santa does-especially with that "Santa-claustraphobic" line. It's also funny to see that the penguins have a rivalry with the reindeer. It makes sense since their kinds came from the opposite poles of the earth. While that goes on, a Santa with amnesia step by step teaches King Julien that Christmas (or Julianuary in the lemur ways) is about giving to make others happy. If you notice before, King Julien doesn't even say thank you for his present. I really enjoy watching this one. It's got the right amount of comedy you'd expect from this franchise.
#5: Rudolph the Red Nosed Reindeer

I just couldn't possible leave this one out. This is the special that booseted Rankin/Bass's TV special career in the air! The Rudolph song sounded like it was telling a story about a character different from his group but proved himself worthy by using his special talents, much like Dumbo. So it made perfect sense for Rankin/Bass to make a mini-movie based on it. Well, it does have that mean prejudice environment you'd expect from a story like this (and I thought it got a little worse when Rudolph left Hermey and Yukon), but eventually the environment changes ways when the different proves their talents. Besides the animation is cute and the movements are very silly, such as when the elves clumsily botch their song for Santa. I think it could also help inspire people who think differently like the ones diagnosed with autism, including myself. I have days where I think I'm bad for being different, but other times I feel proud when my unique talents make others happy. So I guess that's the kind of story that really made this one work, much like what Disney fans saw in Dumbo or Wreck-It-Ralph. I guess you could say this special definietly went down in history!
#4: Kung Fu Panda Holiday

Ok, I'm not sure if one would count this as a Christmas special, due to the fact that the Kung Fu Panda franchise takes place in a foreign country. But hey, I love Kung Fu Panda, it still has holiday spirit, and I even noticed Mr. Ping in a St. Nicolaus-type outfit. I have to admit, it did have that "difficult choice" story that I usually can't stand, but there are some things about it (other than the fact that it's in the Kung Fu Panda franchise) that make up for it. One is...you guessed it-the comedy, particularly when he accidently disgraced the bunny chef (played by the same guy who would later voice Fix-It-Felix), and when Po clumisly struggles to manage the Winter Feast after firing all the chefs. Clumsy moments like that really get a laugh. The other thing is when Po chooses to go to his Father's for the holiday. Sure excusing himself was an awkward part for me (infact I still fast forward through it), but the idea is to follow your heart. Trying to put up something perfect is REALLY pressuring, but when you just let go of it and be yourself, things can turn out even better-without stress. And that is exactly the result of Mr. Ping's holiday party. So if what I say about this interests you, then get some noodles, pop this one in your DVD player and see what you think.
#3: Mickey's Christmas Carol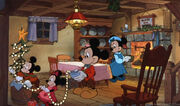 How many of you were introduced to Charles Dickens' beloved Christmas story through this cartoon? I know I definetly was. The charm of the Disney characters introduced me to it, followed by the Muppets version, and many many more. I caught on the tradition, the setup, the understanding of kindness, comparing each and every adaptation. I, even made my own version with anthromomorphic animals. But I'm getting a bit off topic. I loved seeing the Disney characters portray the characters, especially Goofy as Jacob Marley's ghost. I also really liked seeing cameoes from other Disney cartoons like The Wind In The Willows or Robin Hood, and more. Although Mickey's Christmas Carol was only a half hour, it still got the most important aspects of A Christmas Carol and got the emotions that come with the story. The only thing that really bothered me about it was the scene where Pete as the Ghost of Christmas Yet To Come pushed Scrooge into the fire. Yeah, that really freaked me out. But everything else is just so darn charming. So let's replace "Bah Humbug!" with "God Bless Us Everyone".
#2 Frosty the Snowman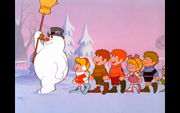 Like Rudolph, Frosty is a carol sounding like a story, and it was a great idea to adapt it into a holiday special. Frosty is my personal favorite Christmas song, so it makes sense that this would be my favorite Rankin/Bass Christmas Classic. I wish it were as long as the other two, but the good stuff is just so darn good. Having a snowman come to life is not something you see everyday, especially not from around the Christmas season. Children have fun with Frosty, but eventually Frosty has to go someplace cold 24/7 or he's a puddle. The bonding with the children doesn't last as long as I'd like, but for what I see it's very charming and seeing all those grown ups shocked is funny. One could argue that if Karen hadn't come into that ice cold car, the difficulties wouldn't have happened. But in my defense, it would have been too easy a story, plus it also shows Frosty's good heart. He wants Karen to be warm and safe, but he still makes sure he's cold and safe. That's not my idea of selfishness. But what IS my idea of selfishness is when that magician Hinkle locks Frosty in the greenhouse just so he can get a hat for his own selfish greed, and makes Karen cry. When Santa threatens to cease giving him presents, Hinkle is willing to write an apology. It's more like a little kid changing behavior. Besides, better that than remaining bad. What else can I say? If there's one snowman I'd love to see around Christmas time, it's that jolly happy soul Frosty!
Now before I move to the number one spot, I should warn you that what is at number one will be different than one you'd expect. It's really obscure (Beyond more obscure than some of Disney's semi-classics), and it may be a bit odd coming from a guy-but no insults about that! So my number one favorite Christmas special is...
#1: Hello Kitty-Santa's Missing Hat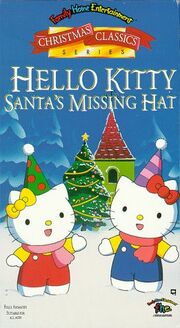 Now I know what you're probably thinking! How can an adult male possibly love a Christmas special starring an anime kitten meant for little girls?! First of all, I don't care about stereotype expectations! Second of all-it's so emotionally beautiful! I loved it as a little kid and I still love it today! This introduced me not only Hello Kitty herself, but also to anime in general. Even though my interest with Hello Kitty and anime was limited to just this, I still felt emotionally touched. Why? Because it deals with Kitty and Mimi's emotions. Its got lots of sweet drama in it, not only because their cohorts don't believe in Santa Claus but also because of their mini adventure in the wintery woods. They get sad, happy and scared throughout this entire episode. Seeing all the magic charm when they see Santa himself and trying to keeping up their Christmas spirit is just touching! There was even another segment attached on my tape starring Kerropi the frog (and another starring a reindeer named Kuppi but I wasn't really that into it) and his frog friends helping a tiny talking Christmas star feel the spirit of Christmas! That also had emotion and charm to it! It was just as good as the Hello Kitty segment. It's not as rare to see it though; I did find it online. The "Santa's Missing Hat" segment is much harder to find and see, but if you can manage to find it-whether on a video auction, DVD, or online great. But I've found my own way of preserving it so I can see it more in the future. Like I said, it's just so emotionally beautiful!

And that was my top 12 Christmas special list. I hope you enjoyed it, and have Happy Holidays and a Happy New Year while you're at it! God bless us everyone!