Hey guys. I have been truing to make a countdown of my favorite Disney songs, and while I do like a lot, I have not been inspired enough to make a top 10. I mean, don't get me wrong; I do enjoy some of the Beauty and the Beast or Lion King song, but I did not grow up with them enough to make a countdown list. Then I thought of the Disney sing along song videos. I enjoyed a lot of Disney songs through those; they were really a lot of fun. Sadly, most after the Be Our Guest video I have not been as interested in. Nevertheless, it was these sing along songs that made me like to sing Disney songs. But the question is, which segments did I like the best? Let's take a look, shall we?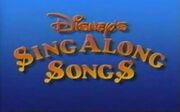 #10: Yo-Ho Yo-Ho: A Pirate's Life For Me
At first I thought this was a song from a Disney live- action movie, but it turned out I was wrong. But despite that, I still thought it was clever. It seemed like a good villain's song that could have come out from a movie. And whenever I think of a pirate singing, this is ALWAYS the first song that pops into my head. It represents how bad pirates really can be. They do steal, burn cities, kidnap, and so forth. It was just a catchy song to listen to and to watch the bouncing Mickey ball bounce on the lyrics.! The ending of the segment was a little surprising when the pirates shot that explosive. That was how I thought it was from an actual movie.
#9: Ooh De Lally
I loved a lot of things about Robin Hood, and the music was one of them, both songs and score. But I rarely saw any of the songs as sing-along-segments. And this song came up in a sing along song video about. Mary Poppins. It was gentle, and I liked Ludwig's joke that they are called Merry Men because they love to laugh. And they even showed some extra clips including the castle escape climax. It was delightful and it made me feel merry as well.
#8: Pink Elephants on Parade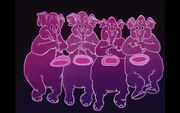 As much as I love this song, I kinda put it low on the list, mostly because the instrumental beginning of the song was cut which was the best part of the song. Luckily they cut the segment of the Pink Elephants doing whatever as well, which I wasn't nearly as interested in. Even though this scene did not change any of Dumbo's problems, it made a good distraction from all those sad cruel things Dumbo had to endure lately. And besides, Pink Elephants is catchy and cool! This was the animators' opportunity to let their imaginations go wild and do all kinds of crazy things. It was just awesome!
#7: A Cowboy Needs A Horse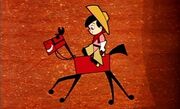 When this segment was beginning, I kind of felt chills up my spine. The birds were vocalizing after Roberta Robin was reading about Johnny. The horse itself looked a little creepy too and the ending was a little bit too. This song represented everything a cowboy needed out in the Wild West and the melody was very catchy too. And they even included a "good lord knows" almost as if they wanted this cute little cowboy safe and sound. I guess I kinda want to keep ridin' ridin' along.
#6: Zorro's Theme

I have honestly never seen Zorro on the screen at all. But you know what? I didn't need to. This song was all I needed. I did kind of think this song was a little scary, but I thought it was cool at the same time! I liked how at the beginning of the sing along segment, that Panchito kept singing and interrupting Professor Owl, to the point where he loses his temper. And then we got down to this chilling song! At first I thought Zorro was a creepy bad-guy, but once I remembered the lyrics more, I realized I had misjudged him. He's basically the icon of the masked avenger. In disguise with a mask, has a secret identity, sword fights baddies, all to help unfortunate people in need. And of course, he makes the sign of the Z wherever he has been to let people know that he was there. Bad-guys won't be mocking this song anytime soon.
#5: The Siamese Cat Song

After Zorro on the Heigh Ho sing along video, I came across the catchiest song in Lady and the Tramp- The Siamese Cat song. I also saw this song on the Honor To Us All sing along video which was the only good song on that tape. The rest were not my cup of tea, especially without a host which I found boring. But anyway, the song was good in representing how they are Lady's temporary "room-mates" until Aunt Sarah left, and they were pretty bad ones. The melody was cool and these cats were really good at driving Lady nuts. Poor Lady. I love this song.
#4: Heffalumps and Woozles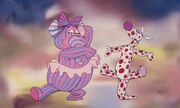 This is my favorite event in Winnie the Pooh history! This song was a crazy nightmare, much like Pink Elephants on Parade. Only instead of just elephants, there were weasels too. It was creepy at times, but the animation was great too. Throughout the whole song, Pooh was trying to stop those Heffalumps and Woozles from stealing his honey (Come on Pooh, you gotta learn to share)! The other Winnie the Pooh songs were okay, but I just thought this was the most spectacular of all the songs. It was a nightmare, but it was a cool Winnie the Pooh song that took a risk.
3: The Merrily Song
Oh yeah! This was a very delightful song! This was the best song on that You Can Fly video. I loved watching The Wind In The Willows as a kid (as a SEPARATE cartoon) and I still watch it on my Classic Animation Short Collection DVD. This showed Mr. Toad and Cyril just having fun driving the gypsy cart around the country side of England...uh, even though they were carelessly breaking other people's property. The melody and lyrics are funny along with Mr. Toad. Mr. Toad and Cyril didn't feel like they had to go anywhere in particular, they just went wherever they wanted. Despite Toad's bad driving skills, at least he is delightful to see sights with.
#2: Casey Junior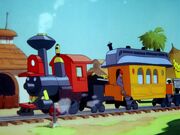 Before Thomas the Tank Engine, there was Casey Junior! I loved this segment when I was a kid. This was back when Dumbo used to be my favorite Disney film made by Walt Disney himself. The Zip-A-Dee-Doo-Dah video had a lot of songs from Walt's early days. But THIS was the one song I wanted to see. This song is what made me interested in trains! Casey Junior's voice getting ready to go sounded cool and the sound effects he made were awesome! I loved how this song represented a train coming soon to town! Infact, when I was little, I used to rein-act this song with my toy trains. I would set up a railroad, put the magnetic train cars together with my favorite locomotive on the front, and act out everything from this sing along segment! I just loved it!
And my #1 favorite sing along segment is....
#1: The World' Greatest Criminal Mind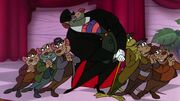 Um, I am guessing most of you saw this coming because of my user name, some of my past comments and blogs, and of course my praise for The Great Mouse Detective. But nevertheless, this was the sing along song segment I loved the most! 97% of the other songs on the Be Our Guest video were good, but this was my favorite! It represents how Ratigan just LOVES being evil and how he has no remorse over all those crimes he committed. They also cut Bartholomew's execution to make it more appropriate and fun for kids. I just loved it! It was catchy, it was devious, it was fun, I just loved it!
And that was my list. I hope this brought back all the wonderful sing along song video memories you had, because I love remembering for all the fun I had with them. See you next time. 🎵🎶🎼