Hi Guys! Tonight's blog will be about my favorite Disney World attractions! I love that place, but then again, I'm highly positive most of you do! And why not? Its got a lot of hotels, games, rides, waterparks, fun activities, the list is enormous! I love it too! The only downside is that I'm having trouble finding places I want to go on vacation other than Disney World, but that's a different tale. A question kept buzzing in my head: What is my favorite ride or attraction? That's a question I have often had difficulty with. I like a lot of attractions for what they are, but I have never picked an actual favorite. I thought, why not just pick some of the ones you like looking to ride as soon as you get to the park? So that's what I am going to countdown, including any that might have been a former attraction.
#10: Buzz Lightyear's Ranger Blast
Edit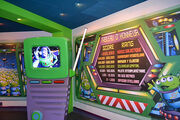 One time when it was just my brother, dad, and I, we went on this ride more than once along with the Men In Black ride at Universal Studios. It was all about blasting! All one would have to do is blast the Zurg targets and you get points! And once more, Buzz Lightyear fans would get a chance to kick the evil Emperor Zurg, sworn enemy of the galactic alliance! Some of the aliens were pretty cool. Cool enough to capture older kids' attention, but not scary for a little kid. This was a ride that really took us infinity and beyond.
#9: Tea Cups
Edit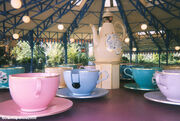 I can't help it. I love non-roller coaster motion rides. My parents on the other hand, get queasy and dizzy. I love spinning in a lot of rides like the Himalaya ones, or in Tilt-A-Whirls, and this one works great too. You just sit and spin around like heck! You could twirl left or right and just spin using the steering thingy in each cup. You wouldn't have to anticipate where you's spin, you could just do it at your own pace. Pretty cool ride...unless you don't feel like getting queasy.
#8: Soarin
Edit

I have to admit, out the four main theme parks of Walt Disney World, I'd say Epcot is my least favorite. I mean don't get me wrong, its nice and there are some nice attractions here and there, just not as great as some of the other ones. I do have a couple of favorites here though, and Soarin' is one of them. It's a stop motion ride that doesn't make ex-fans dreading or queasy like a lot do. It's a nice fast glide across the sky. We fly across many great views. like across a canyon, a bunch of trees, and of course, Disney World itself. Its beautiful and very pleasant. And best of all, I don't fall off (which is what I dread about heights).
#7: The Jungle Cruise
Edit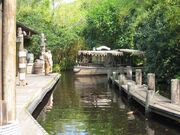 A real jungle cruise would probably give us chills down our spine because of the dangerous wildlife. But in this ride, we don't have to worry about it. However, the ride acts as if we are. The animals are animatronics so they can't really hurt us (even though animatronics do kinda creep me out). The boat takes us through the jungles of Africa and India so we get some variety. We even see some wildlife explorers stuck in a tree because of rhinos. My favorite part is when we sail inside a cave and we come across a tiger, the animal I always hope to see in a jungle themed area. The tour guides always look like they are heroically protecting us, except for one tour guide. This one was just pointing out to various animals saying "They don't like me," "They don't like me", "He likes me" most of the time. The only exception was when he noticed a boa constrictor a little too late. Its still a great ride though, and one of Adventure Land's best.
#6: The Magic of Disney Animation
Edit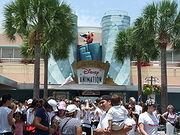 I didn't hear about its closure until today. And man am I disappointed because its one of my three favorite attractions at Hollywood Studios! You walk in and you see a lot of sketches of most of the past Disney films while going through a line. The one I remember the most was a sketch of Cody hugging Marahute from "The Rescuers Down Under." And then we go learn about how an animated film is made, with special guest Mushu. I love how he argues with the guide in charge, it's a great 4th wall thing! We also learn that Mushu had features of other animals before he officially became a dragon. And then of course, we get an early look on the next up-coming Disney or Pixar animated film-in my cases, I saw early looks at "Chicken Little", "Ratatouille", "Toy Story 3", and "Frozen" at this attraction. After Mushu does more bragging, we even get to do some fun activities like color with Kronk, perform voice-overs with Ursula, and even find out which Disney character you are with Lumiere. The only problem is ITS CLOSED DOWN! I don't even know why! This is one attraction that should NOT have been closed! YOU HEAR ME WHOEVER'S IN CHARGE OF DISNEY WORLD?! RE-OPEN THIS GREAT FUNNY EDUCATONAL ATTRACTION!
#5: Muppet Vision 3-D
Edit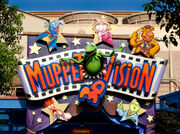 Who doesn't like the Muppets? They are funny, cute, and great performers. And they get their very own 3-D attraction, Its nothing scary at all, just the Muppets performing their silly show business in 3-D. They just do whatever they want, and its fun both in the wating room and the show itself. Of course, the majority of the Muppets we are familiar with are here-Sam the Eagle, Gonzo, Fozzie, Stan and Waldorf, Rizzo, Miss Piggy, and of course Kermit the Frog! We see alot of the Muppets do whatever they do like Miss Piggy try to sing despite the rabbit botching it up for her, Sam doing that American firework stuff, and Fozzie attempting talents only to get laughed at by Stan and Waldorf. What else can I say? Its the Muppets doing muppety things.
#4: Toy Story Midway Mania
Edit

When I saw a commercial for this attraction, I thought part of it was anticipation for Toy Story 3. In-fact, I rode this ride the same summer Toy Story 3 came out! But even without it, the ride is great with its interior decorating and the 3-D ride itself. The long walk looks like you are in Andy's room with a bunch of toys designed the way Andy plays his adventures with the toys, like the barrel monkies, Lincoln Logs, chutes and ladders, the list goes on! There's even an animatronic Mr. Potato head to give us laughs! And then there's the 3-D ride itself! 4 players a piece score big points in target minigames within 5 minutes I guess with all your favorite characters. Each target game is a different theme depending on the characters you are with. Like for Woody, Jessie, and Bullseye its the Wild West, Buzz and the aliens its space, Rex and Trixie its the Dinosaur age, for Hamm its the farm, the list is esndless. And once its 3, 2, 1, the others behind get their turns. Its fun, its loyal to the Toy Story franchise, its just a great ride!
#3: The Seas With Nemo and Friends
Edit

Like I said, Epcot isn't my favorite portion of Walt Disney World, but the Finding Nemo ride is my favorite ride at Epcot. As most of you know, Finding Nemo is my favorite Pixar film, and this ride makes me feel like I'm in the bottom of the sea. Sometimes you see real aquarium animals, but other times you see a holograph of the movie's characters, all of which looking for Nemo, including Bruce. There's one part that is dark in the room, but don't worry the anglerfish does not attack us. Its the same light-hearted emotion and ocean quietness that Finding Nemo itself had. There's even animatronic seagulls just before guests go in. Do I even need to tell you what they do when you get close? What else is there to say?
#2: Kali River Rapids
Edit
I love these kind of rapid rides! There have been past rides where I ride an attraction that involves getting wet, and I am soaked for the rest of the trip in the park. Strangly though, I haven't gotten that wet riding this one. What do I love about it? The raft twists, turns, and bumps into a raging river threatening to set you soaked, just like a wild jungle river would! Its gotten laughs out of me, and sometimes I'm not even that soaked. Some unlucky victims end up under a mini waterfall and DO get soaked! Ooh, what lousy luck...if you hate getting wet that is!
And the number one best ride in Disney world is...
#1: Primeval Whirl
Edit
I never thought this was an actual roller coaster, more like a mixture of a Himalya, roller coaster, and a Tilt-A-Whirl, but that's what's so great about it! It wasn't all dreading and full of drops like most roller coasters, it was a ride about going fast and sharp turns, and luckily a few minor drops here and there! There was one drop that was a little big, but it didn't bother me too much. It did make my stomach tingle with both fear and excitement at the same time! It had the perfect amount of chills and fun just like an amusement park ride should have! I just love this one!

And those are my top 10 favorite Disney World attractiona at the happiest place on earth, and one of the greatest vacation spots in the world! What are your favorites?