Hi fellas. A little while ago when I was looking at new pictures being uploaded on the Disney Wiki, I saw someone post their Disney DVD collection. So I thought to myself, "Hmmm, maybe I should do that", seeing that was allowed. So here are the pictures of all Disney DVDs, both from WDAS and Pixar. Then I will show which editions I have in the order the movies came out. So here are the pictures, both covers and spines.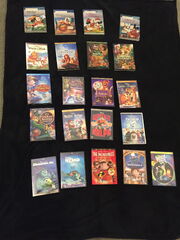 The Short Films
Mickey and the Beanstalk
The Wind In The Willows
The Prince and the Pauper
Mickey's Christmas Carol
(All 2009 DVDs from The Walt Disney Animation Collection of Short Films)
Disney Classics from Walt Disney Animation Studios
Pinocchio 70th Anniversary Platinum Edition 2009
Lady and the Tramp 2012 Diamond Edition DVD
The Jungle Book 40th Anniversary 2007 DVD
The Aristocats 2008 Special Edition DVD
Robin Hood 2006 Most Wanted Edition DVD
The Many Adventures of Winnie the Pooh 2013 DVD
The Rescuers 35th Anniversary Edition/The Rescuers Down Under 2012 2-Movie Collection
The Great Mouse Detective 2010 Mystery In The Midst Edition DVD
The Lion King 2011 Diamond Edition DVD
The Princess and the Frog 2010 DVD
Wreck It Ralph 2013 DVD
Frozen 2014 DVD
Pixar Films
Monsters Inc 2013 DVD
Finding Nemo 2012 DVD
The Incredibles Collectors Edition 2005 DVD
Ratatouille 2007 DVD
Inside Out 2015 DVD

So what do you think? Do you like my collection?