Hi everyone. I am back again. This time I am ranking the songs from The Jungle Book. Mainly because I've praised it as an animated classic and have honored it as one of my favorite Disney films. Its got fun, heart, a wonderful story, and of course-jungle jumpin' music. So let's begin.
#7: The Bare Necessities (Reprise)

I put this one at the bottom, like most reprises, because of its shortness, but it is still really catchy. Baloo has finally accepted Mowgli going to the Man Village (at least for now), and he and Bagheera sing that Bare song as they go off into the jungle. There's nothing else to say.
#6: That's What Friends Are For

I know this was supposed to be a song to cheer up Mowgli, I put it low on the list because I find the melody forgettable. Not bad, just not very memorable. But it does have some good cheering up to it. Mowgli feels unwanted and rejected, and no longer wants friends. The vultures teach the man-cub that everyone has to have friends, even those who are independent, to have support and good self-esteem. And that's a good enough way to describe it. Not the most entertaining, but a good song with a lesson.
#5: Colonel Hathi's March (Reprise)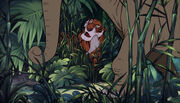 Even though it is yet ANOTHER short reprise, I found the first part of it pretty cool when I listen to on my soundtrack. The first part is George Bruns' ominous score of Shere Khan attempting to stalk his prey ( which happens to be Bambi's Mom). But she is saved by Hathi's continuing parade. The lyrics are similar to the original, but its still the same drill marching elephants. But what about the original version of this song?
#4: Colonel Hathi's March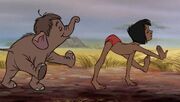 Colonel Hathi's idea of good things to do is march throughout the jungle, sing, and do military stuff. The song is pretty silly that way. The Jungle Patrol doesn't seem to be patrolling much, just marching and singing one could say. Mowgli doesn't seem to mind doing it, but then again he doesn't know what the elephants feel since they have to constantly march march march and get their feet sore. Its also funny to see that Hathi claims an elephant never forgets...yet, he forgets his kid and to say halt. Heh Heh Heh.
#3: Bare Necessities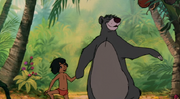 I guess you could call The Bare Necessities the Jungle Book predecessor to "Hakuna Matata." Mowgli wants to stay in the jungle with Baloo, so the big guy teaches his man-cub about his way of having a good time. Forgetting troubles, laying back, discovering for oneself, and not worrying about anything-much to Bagheera's disgust. Since The Jungle Book came out in the '60s, it only makes sense to hear some jazz music in the background, which actually fits this song perfectly. Jazz music feels relaxed and that's Baloo's characteristic style. Its just the Bare Necessities.
#2: Trust In Me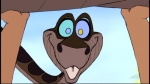 Oh man! This song is really creepy!....and really cool too. Kaa is one of those villains who tries to lure his victim in his clutches...which isn't easy with a stubborn man-cub who already knows his tricks. But sly Kaa uses his hypnotic charm as soon as he gets the chance to hypnotize Mowgli and sings his chilling villain song. He sings WHY Mowgli should trust him, saying that he'll sleep safe and sound, but I think he means permanently. The mood is very low, which works greatly for a snake as creepy as Kaa. Unfortunately, he creeped my mother and sister out a lot and like I've said before-thought Kaa actually ate Winnie the Pooh. But hey, neither Kaa nor this song bothered me.
And the number one song is...
# I Wanna Be Like You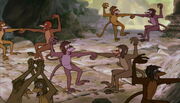 Ok, I know King Louie is kind of a crazy idiot who kidnaps a man-cub. Bug its honestly hard to consider this a villain's song since almost every character (except of course Bagheera) is having fun. Everyone's singing loudly, everyone's dancing, it just feels a lot like a blast! This song just feels like its representing the Sherman Brothers' jazzy songwriting. It's wild, its energizing, it portrays the characters enjoying themselves for the moment, it just feels fun. Its big dancing songs like this that make musicals so big to watch. It just makes me feel like grooving at times.
And that's all I gotta say about these jungle jumping songs. I hope you liked it-and forget about your worries Nd your strifes.