This blog post is a sequel to a previous post and a rant on Disney's Fairies.
Ahoy! I just saw The Pirate Fairy, the latest installment in the Tinker Bell film saga. I paid attention to the news about it since August 2013. In my opinion, this is the best Fairies film so far. It starts to bridge the gap between Tinker Bell's home world of Pixie Hollow and Peter Pan's world. We get to see Captain Hook and Tick-Tock the Crocodile in their first appearances. And if you are a Loki Laufeyson fan, you should see it because Tom Hiddleston voices Captain Hook. He even sings!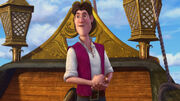 He sings. There is something significant about "The Frigate That Flies." It is only the second song in the Fairies series that is sung by characters onscreen, the other one being "Fairy Tale Theatre" from Tinker Bell and the Lost Treasure. Unlike "Fairy Tale Theatre," "The Frigate That Flies" is included on the soundtrack! Natasha Bedingfield also recorded two songs on the soundtrack. But why couldn't "Who I Am" have been sung by Zarina instead?
Aaarrrgh! That is the main reason why I am so disappointed in the directors at DisneyToon Studios. Most of the fairies have wonderful singing voices: Raven-Symoné as Iridessa; Jesse McCartney as Terence; and Lucy Hale as Periwinkle; just to name a few, but the only one that gets to use hers is Grey DeLisle, who voices Lyria. The offscreen songs we hear are meant to serve as the characters' inner voices, but that sure isn't what they sound like. And what about our beloved icon, Tinker Bell? She still doesn't have a signature song like every other Disney mascot! Honestly, I don't think it's because she or her fairy friends cannot sing.
Factoid: They do sing in Disney on Ice: Worlds of Fantasy and Disney's Peter Pan JR.! So, why can't they sing on the screen like they do on the stage?
Well, I have a final solution: As I have shared with some of you before, I would like to join the Walt Disney Company and make a third Peter Pan movie which will be about Wendy Darling's granddaughter, Margaret. I was inspired by the ending of J. M. Barrie's novel. Little is known about Margaret, so this could make for a captivating story. Of course, I want the movie to look like a professionally produced sequel, not a mere work of fanfiction. And since I am an aspiring songwriter, I will write original songs for it, including one for Tinker Bell.
Yeah. But still, you gotta love Tom's singing. Who can fight a frigate that flies?