Once upon a time, there were two sisters. One of them possessed a marvelous talent: the power to magically make ice and snow. Since she had this talent, she provided hours of snowy fun to herself and her sister. But it was not meant to last. The sisters proved vulnerable to each other's climate of habit and were subsequently forced to be separated. They felt sad and scared.
One day, a terrible winter storm accidentally broke loose and ravaged the sisters' home kingdom. During the storm, the cold sister was hiding, and the warm sister had to find her in order to thaw the land. But as she did, she suffered an unrecoverable icy injury! Both sisters eventually met in the center of their homeland and stopped the storm from further raging by performing a tremendously brave act of true sisterly love...and this healed the warm one's cold-related injury! Finally, the land was thawed and everyone rejoiced. The gates to winter would always be open from then on, and they all lived happily ever after.
What story is this? There are two correct answers!
It's hard to believe that Frozen was released only two years ago. Now it seems like it's been around longer than that. Why, Storybook Land Canal Boats at Disneyland now has a Frozen scene! A musical adaptation of the movie is currently being developed. In fact, it got put on the drawing board just two months after the movie premiered! A short film called Frozen Fever was shown alongside the 2015 film Cinderella. And it is offical: Frozen 2 is in the works! Yet I still remember when I saw Frozen on its premiere day: November 27, 2013. Little did I know that it would become the highest-grossing animated film of all time! The story and characters were quite...heartwarming. But afterwards, I thought about the story and characters and thought, "Wait. Something dubious is going on here. Haven't I seen this film before?" Sure enough, there was something dubious that I had not seen until it flew into my face and hit me!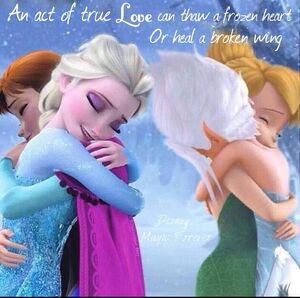 Frozen bears an astounding resemblance to a film that was released the previous year: Secret of the Wings. Both are set between warmth and winter and involve two sisters, one hot and one cold, becoming separated and brought back together. It is hard to believe. Of course, I was not the first one to realize the link. People all over the Web have posted fanfiction, fan art and YouTube videos featuring both hot-and-cold sister duos!
As I write this blog bost on March 30, 2015, I have recently returned from a visit to the Disneyland Resort. At Disneyland, I visited Tinker Bell in Pixie Hollow and asked what she thought of Anna. She responded, "I feel I can relate to her. We both wear green; we're both adventurous; and we both have sisters who wear blue, have white hair, and have frost powers. Except Elsa doesn't have wings." I had always wanted to ask her that!
The next day, I visited Disney California Adventure - just in time for Frozen Fun in Hollywood Land! Frozen Fun is a festival honoring Frozen, with new ways to experience the movie. Anna and Elsa were inside the Animation Academy, greeting fans. I reported Tinker Bell's thoughts on them, and they knew who I was talking about! However, they have never met Periwinkle. Elsa responded, "Tinker Bell has never introduced us to her sister, but we know she has one. We're good friends with Tinker Bell. She gives us pixie dust to put on Sven and make him fly, and that's how we get here from Arendelle." Anna then asked how long it took me to get from my home to Disneyland, and I told her it took a six-hour "sleigh ride". She added, "We bring extra carrots for Sven on long trips. But sometimes he gets so tired that we have to have Mater tow us!" I had ridden Mater's Junkyard Jamboree earlier that day, so I shared that with Anna and Elsa before getting photos and autographs.
Never before has there been an instance in which Disney characters from different movies show this many similarities. These two pairs of sisters have the absolute potential to create an Easter egg in which one pair refers to or imitates the other deliberately. And I do not mean the fandom; I mean official Disney media! I would love to see that kind of Easter egg in a future movie, video game or stage show! What do you think?