Ah, San Francisco. The city by the bay, where little cable cars climb halfway to the stars. Home to the Walt Disney Family Museum and the headquarters of the Wikimedia Foundation, where all of Wikia is based. You will never be bored there.
I happen to live in the San Francisco Bay area. One summer day, I visited Pier 39, a popular waterfront complex featuring San Francisco-themed attractions, restaurants, and stores. It felt exactly like Disneyland - sans the Disney theme, that is. After that excursion, Pier 39 instantly became my favorite part of San Francisco. It certainly is the most Disneyland-esque place you will find anywhere in the Bay! The only thing missing would be Disney characters. Little did I know that it receives a touch of Disney magic annually for the holidays!
Last week, I was riding in my car when I heard an advertisement on the radio about Pier 39's Christmas tree lighting. The announcer uttered something about "friends from the Disneyland Resort". As you can imagine, that ad piqued my interest. When I got home, I looked on the Pier 39 website to investigate. Sure enough, their Christmas tree lighting ceremony features actual walk-around characters from Disneyland. "I need to see this!" I thought. "So what if I am 'too old'? Look at my username! Growing old is mandatory, but growing up is optional. Maybe I will attend."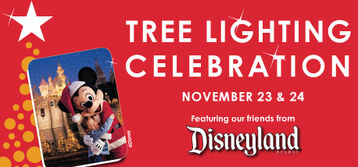 If you live in or around San Francisco, then maybe you would like to attend as well. The festivities will be held on November 23 & 24. On both days, Mickey Mouse and friends will meet and greet from noon to 3:00 PM. Radio Disney Bay Area wil sponsor the event.