Hey Guys! What's up here I'm going to tell you that frozen 2 is going to happen and next month they start development with same director, same producer, same singers, same voice actors. After a big hit film frozen was released there will be a big chance of releasing frozen 2 but its can't be released before 2018 but as early it will be released in 2017th last month or second last month. We all are excited to watch the full sequeal of frozen. Kristan bell the voice actor of princess Anna will be back again but there shall be a change in dress of two sisters elsa and anna as seen in 2015th frozen fever.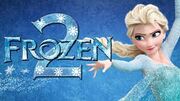 I think frozen 2 revealed the secrets of power of elsa and a new villian of arendelle but I don't want a new villan of arendelle. Prince Hans will be back in frozen 2 as love interest of elsa but I don't think so after watching the last scene of killing elsa by Hans but that was failed as anna protect elsa.
Frozen 2 will be so interesting and so good for me after watching frozen because frozen is the best film and the story was too great with strong characters.