So, Guys! What's up! I'm going to show you some latest news and updates about Frozen 2 and there will be something new! As my 1st Blog "Frozen 2 is happening!" I written that Frozen 2 release date is 2018 and now! No! There is no change in the release date. Frozen 2 can't come out before 2018. Disney officially announced plans to produce a sequel to "Frozen."The company revealed plans during the Walt Disney Co.'s annual shareholders meeting on Thursday from San Francisco.The first film's directors Jennifer Lee and Chris Buck are developing the project with producer Peter Del Vecho for Walt Disney Animation Studios, which took home the Oscar for animated feature for the film.
Note-A release date and production details are yet to be announced.
Kirsten Bell "let it go" when sharing exciting news about the highly anticipated sequel to "Frozen" and talked about why it took so long for an official announcement of the second installment. Disney only made the announcement for the second installment last year. And a week ago, Bell, who voices Anna on the much-loved Disney animation, told Collider that "Frozen 2" was about to begin production. While they had not started recording their lines, the script was being polished. The actress believed they would start recording this month. She also shared that the work was of a quality she would associate with the team who put it out.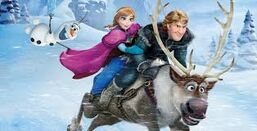 On another note, a bizarre twist in the storyline for the sequel has been rumored, ignited by comments the director, Chris Buck, had made at a Reddit AMA when asked where the King and Queen, Anna's and Elsa's parents, had planned to go when they were shipwrecked. The director hinted that Tarzan may be the two princesses' brother, as the monarchs had not died in the wreck but washed up on an island jungle, but got killed by a leopard. The Queen had given birth earlier, on the boat, to a baby boy.
The animated musical comedy adventure, "Frozen 2" release date will not be near as speculated. The possible release date for "Frozen 2" is set for 2018. Disney has got its plate full with "Moana" too and, they are looking for excellence in work rather than money.
"Frozen" came as a huge success for Disney with $1.276 billion worldwide collections. The two sisters Anna and Elsa won hearts of fans all over the world.
Source-http://variety.com/                                                                                                                                              http://www.movienewsguide.com/                                                                                                                        http://www.christianpost.com/