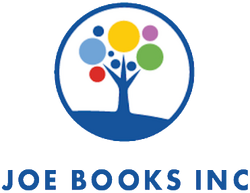 Hey everyone. JeremyCreek here. As you may have noticed, a lot of my edits on this wiki, especially in the past year, have been in relation to a less famous (here in the US, anyway) section of Disney's output - the comic books. And while the Disney comic books have never quite been as prominent as they were since Gladstone Publishing's run with the license, we Disney fans seem to have quite a bit to look forward to whenever we go to the comic book shop now. At the time I write this, IDW Publishing has brought back the "core four" titles to comic shops all over the US, Papercutz is still delivering graphic novels starring Tinker Bell and her friends from Pixie Hollow, and Disney's own subsidiary Marvel Comics adapting the company's theme park attractions and making new comics based on fellow acquired property Star Wars. But there's one other, relatively obscure comic publishing company that seems to have a lot of Disney properties on their hands to publish in comic book form. I'm speaking of course of newcomer Joe Books.
Yes, this fairly-recently-founded Canadian publishing company, having brought out their first Disney publications over a year ago, probably has the comic book rights to just about every Disney cartoon and movie and TV show that's not already being handled by IDW, Marvel, or Papercutz (and in the past year, they've apparently also picked up the comic rights to DreamWorks Animation's productions as well). Next month, they will be launching their line of monthly comic books with a Disney Princess anthology title, with a continuation of Boom! Studios' Darkwing Duck comic to follow in the spring (and hopefully more Disney Afternoon comics in the future). In the meantime, most of JB's Disney output has been the Cinestory novels, but they've also put out some impressive trade paperbacks of past comics starring the Disney characters, among them Darkwing Duck: The Definitively Dangerous Edition, Phineas and Ferb Colossal Comics Collection, and the Pixar and Disney Princess comic treasuries, which featured previously-printed comics and even some that had never before seen the light of day in the States.
This brings me to the subject of this, my very first blog post on this wiki. Those omnibus-sized books I just mentioned have given a good first impression for Joe Books, and while I am indeed looking forward to once again traveling to my local comic book retailer to pick up Darkwing Duck every month, there's a good number of other past Disney comic books that I want to see reprinted by these guys. Thus, this essay I have written up that I decided to post as a blog entry because it's too long to post as a simple comment on the publisher's article here - my list of Disney comic trade paperbacks I want to see from Joe Books.
Before I get started, I must mention that I have not included any comics in which Mickey and Donald are the stars, because their monthly titles are currently under IDW, and likely they would be the ones publishing any reprint collections of those characters' past comics (except for the works of Floyd Gottfredson, Carl Barks, and Don Rosa, which are being handled by Fantagraphics instead). This also applies to the "main" version of Uncle Scrooge, but DuckTales, which is part of the Disney Afternoon license, is okay to be included here since it's more-or-less an "Elseworlds" take on Scrooge that IS in JB's hands. That said, let's take a look at what I've listed: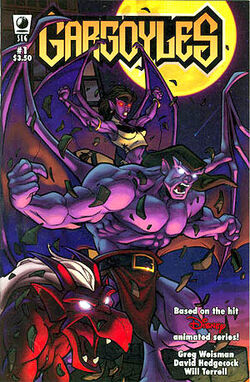 Gargoyles - the Slave Labor Graphics comic
This had to go somewhere on the list, so I figured, why not put it at the very top? Last year's Darkwing Duck: The Definitively Dangerous Edition got us Disney Afternerds excited for the Duck Knight's upcoming re-return to the four-color format, and if there's any show from the Disney Afternoon that's as popular as Darkwing (if not more so), it's Greg Weisman's Gargoyles. The stone defenders of the night originally made their jump to print under Marvel and in Disney Adventures, but only their most recent comic book incarnation, which began about a decade after the TV show's second (and as far as just about everyone is concerned, final) season finished, is considered canon, having been written by Weisman himself. Sadly, SLG's run with Gargoyles only managed to get eight of its twelve issues published, with the last four issues instead seeing print in their second now-out-of-print trade paperback. I will not be surprised if Joe Books plans on letting Weisman continue the Manhattan Clan's adventures from where he previously left off, but before they do, I agree with Weisman than an omnibus reprinting all twelve issues of SLG's Gargoyles comic, as well as the six-issue Bad Guys spin-off title, would be adequate. After all, all 65 canon episodes of the show are now available on DVD, so why not allow new viewers to catch up on what happens between the second season finale and the first issue of the new comic they may publish?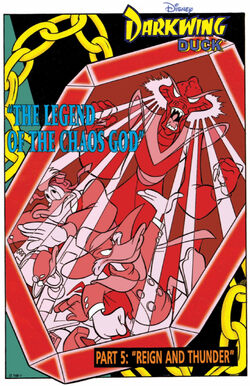 Originally printed with (presumably) the intention of celebrating Disney Adventures' 50th issue (even though it ended up concluding one issue late), this five-part crossover arc between all the shows from the Disney Afternoon's second and third seasons is right up there with Nintendo Power's Super Mario Adventures serial as a comic I most want to see a modern reprint of. Despite how memorable this story is to anyone who's read it, it has somehow never been reprinted anywhere, according to its I.N.D.U.C.K.S. pages, so as you can imagine, this would be a good way for Disney and Joe Books to test the waters for more Disney Afternoon reprint collections. And yes, I am aware that all five chapters of this story are available to read for free on TaleSpin HQ and Platypus Comix, but I, for one, would still be willing to pay to read this whole story in one physical book.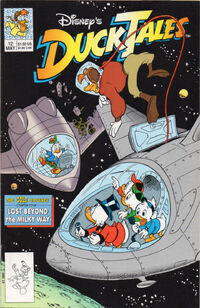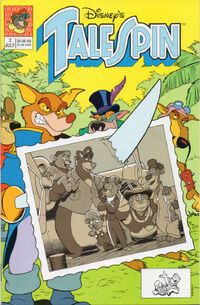 DuckTales, Rescue Rangers, and TaleSpin - the Disney Comics titles
The Disney Princess Comics Treasury included near-full reprints of The Little Mermaid and The New Adventures of Beauty and the Beast mini-series that Disney themselves published during their all-too-brief run of publishing their own comic books. So, naturally, if they can reprint those, I would think they can also give us reprint collections of the monthly comic books that DuckTales, Chip 'n Dale Rescue Rangers, and TaleSpin each got in the early half of Disney Comics Inc.'s lifespan. The two seven-issue arcs from the DuckTales book both got reprint collections, as did four of the "ongoing" TaleSpin comic's seven issues, but like the Gargoyles trade paperbacks, those books are out of print now. Unlike the above-listed Gargoyles comic, these probably would not be necessary for Joe Books to publish before starting work on any new titles they may be planning, but it would certainly be nice for them to show new readers the past comic book incarnations of these three shows. And hey, why limit these collections to just the Disney Comics titles? They could also put out a book reprinting the Rescue Rangers' even-shorter-lived title from Boom! Studios, and I also would like to see a collection of the DuckTales comics that appeared in the Gladstone title, the DuckTales children's magazine, and those eight issues of Uncle Scrooge that Boom! printed in 2010, and if possible, some of the DuckTales stories that have never been published in the US before. And before you ask why I didn't mention the Darkwing Duck mini-series here, that brings me to the next entry on this list...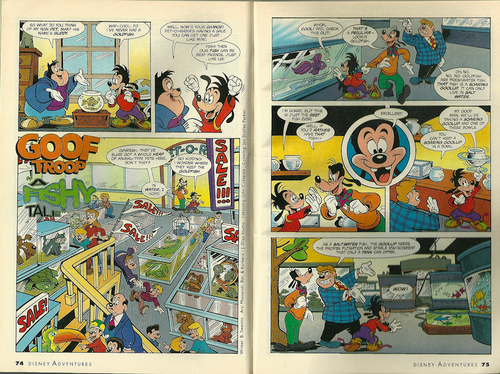 The Disney Afternoon-Era comics from Disney Adventures
A lot of readers of Disney Adventures would probably say that the magazine's comics column (at least when it came to Disney-related comics) was at its best during the Disney Afternoon-Era. Perhaps if the above-mentioned "Legend of the Chaos God" TPB were to sell well, this is a series of books Joe Books could definitely bring out. Thanks to the I.N.D.U.C.K.S., I've calculated that Darkwing Duck alone could get another 400something-page omnibus reprinting both his four-issue mini-series and all his stories from Disney Adventures (minus his "Chaos God" chapter), and that could also apply to the DuckTales and TaleSpin stories from that magazine. And in the case of shows that had shorter lifespans in the Comic Zone, such as Rescue Rangers, Bonkers, and Timon & Pumbaa, those could all be put together in one big book or two, kinda like the Cartoon Network omnibus that IDW published last year.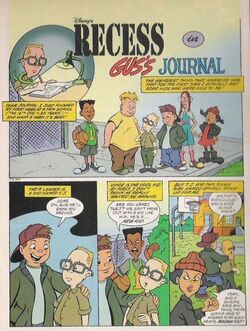 All the One Saturday Morning-Era comics
Disney's One Saturday Morning is not quite as famous as its older sibling, and that seems a little evident when you look at its treatment in Disney Adventures' Comic Zone. While the early issues of the magazine had at least one Disney Afternoon comic every month, comics based on Doug, Pepper Ann, Recess, Buzz Lightyear of Star Command, Teacher's Pet, and Lloyd in Space seemed comparatively few and far between. Nevertheless, I feel that the One Saturday Morning-Era comics deserve to be reprinted as much as their Disney Afternoon-Era brethren, and they could all fit in one big book. Plus, I've seen artwork for a few pages of official Teacher's Pet comics that, to my knowledge, have not yet been published in the US, so a One Saturday Morning omnibus would be a perfect way to bring those and any other never-before-seen stories to the US. And that brings me to the next entry...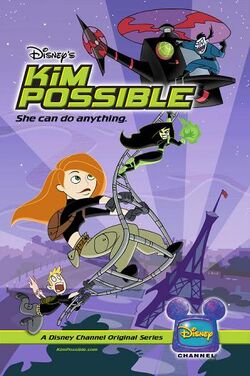 The Kim Possible comics from Europe
If One Saturday Morning didn't get much love in Disney Adventures' Comic Zone, Kim Possible probably suffered even more, as most of her appearances in the Comic Zone were never longer than two pages, and often, they were just lame jokes focusing on Rufus that sometimes just used stock artwork of the characters. But in looking up KP on the I.N.D.U.C.K.S., I've seen that there were plenty of Kim Possible comic stories originally published in Germany, Italy, Poland, and other parts of Europe, and they were often eight pages long. And just from looking at the first pages of those stories on the I.N.D.U.C.K.S., I can already tell that there seems to be more effort in those KP comics than the Disney Adventures ones. Unfortunately, as you can guess, these particular Kim Possible comics have never seen print outside of Europe, so I think it would be a good idea if Joe Books were to bring these to the States in trade paperback form.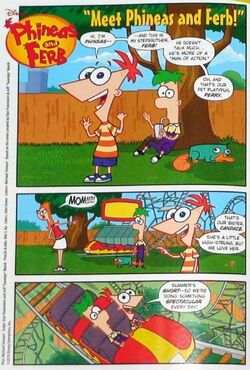 The rest of the Phineas and Ferb comics
Yeah, Joe Books already published one big book of Phineas and Ferb comics last year, reprinting most of the comics from the Phineas and Ferb magazine, but it didn't reprint every single one of them. If necessary, I think JB could make a second volume including all of the Phineas and Ferb magazine comics that were left out of the previous book. Not to mention, the first book did include a couple stories that were never featured in any particular issue of the magazine, and I've also seen a few pages of artwork for a Phineas and Ferb comic I haven't seen here in the US, from the same artist as the above-mentioned Teacher's Pet comic. So chances are, even though the show has ended by now, there apparently are still a few more Phineas and Ferb comics waiting to see print in the US. And in the meantime, if they could do so, JB should also reissue the first collection with a corrected version of those two pages that were inexplicably missing their dialogue balloons.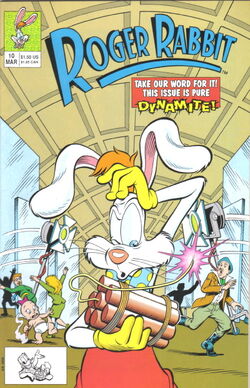 All the Roger Rabbit comics
This list has mainly consisted of old comics relating to Disney Television Animation's productions, so why not also include something that came out of the theatrical division's output? Now, I'm not sure if Who Framed Roger Rabbit is among the Disney properties licensed to Joe Books, not to mention that it could probably take some behind-the-scenes deals with Amblin Entertainment to actually get such a collection published. But then again, I have seen some newly-made Roger Rabbit merchandise in the past few years, and Roger and Jessica even made a few new appearances at the parks a while back, so clearly, Disney knows we want to see more of Roger Rabbit. So, another good idea for Joe Books would be to make a trade paperback or two reprinting 1) the Who Framed Roger Rabbit comic adaptation, 2) the graphic novel Roger Rabbit: The Resurrection of Doom, 3) all eighteen issues of the Roger Rabbit comic book, 4) all the Roger Rabbit stories from Disney Adventures, and 5) all five issues of Roger Rabbit's Toontown.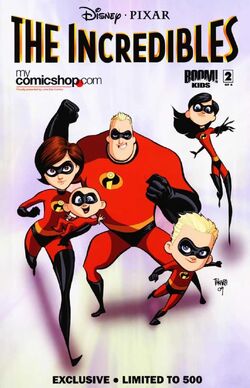 More of the old Pixar comics
Joe Books' Disney-Pixar Comics Treasury, published last year, included the comic adaptations of all the Pixar movies up to Monsters University, but there was one interesting extra reprint included in that omnibus - the first four issues of Boom! Studios' short-lived WALL-E prequel comic. This leads me to believe that JB could reprint more of the older comics starring the Pixar characters, especially seeing how PreviewsWorld.com labeled that book as "Volume 1". The most obvious choice for a future Pixar reprint collection I can think of is an omnibus of Boom! Studios' The Incredibles comic, which ran for a total of 20 issues (counting the 4-issue "Family Matters" mini-series) only to be cut off on a cliffhanger. Marvel did reprint the first two arcs, but then never bothered to finish the reprints or continue the story after those sold poorly. Perhaps Joe Books can reprint the entirety of that series and then continue where Boom! left off in a new series, much like what they're doing with Darkwing Duck. Plus, it would help generate excitement for The Incredibles 2. Other past Pixar comics I'd like to see reprinted by JB include Boom!'s Monsters, Inc.: Laugh Factory mini-series from 2009 and the Toy Story 4-issue mini-series that Marvel published in 2012.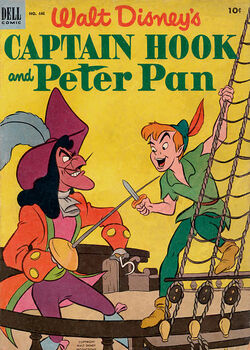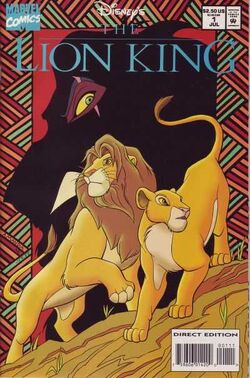 More of the past Disney Animated Feature-related comics
While Mickey, Donald, and the Silly Symphonies characters have their own comics licensed to IDW, the comics based on Walt Disney Animation Studios' feature-length classics, however, are clearly with Joe Books, as we've seen in the past year. Since the Disney Princess Comics Treasury book was also labeled as "Volume 1" by PreviewsWorld.com, I expect it too may eventually get a follow-up featuring more of the Princesses' past comic adventures. But why limit these reprint collections to movies relating to the Disney Princess franchise? I think Joe Books should also bring out reprints of comics based on various other Disney animated features, such as Peter Pan and The Lion King. Admittedly, I don't know how they can market the non-Princess comics in one catch-all collection, outside of reviving the Disney Adventurers brand that Tarzan, Hercules, Aladdin, and Peter Pan were merchandised as part of over a decade ago. But hey, it would be nice to see these older comics back in print.
The other Muppet comics
When I originally wrote up this blog post, I initially left out the Muppets because I was not aware if Joe Books had the rights to reprint their old comics. But sure enough, less than a week later, I found out that Joe Books did indeed have the license, because they're bringing out a new omnibus of Roger Langridge's excellent Muppet Show comic book later this year. And while that's certainly good news, then I think it would be good if JB could also reprint the other series of Muppet comic books that Boom! Studios published alongside it - Muppet Robin Hood, Muppet Peter Pan, Muppet King Arthur, Muppet Snow White, and Muppet Sherlock Holmes. Unlike Langridge's series, those five spin-off mini-series never got reprinted under Marvel, and while the quality of each of those comics was rather varied, it would be nice to see them made available again for Muppet collectors. And for that matter, since Disney's ownership of the Muppets also includes Muppet Babies, perhaps JB could also publish an omnibus of the old Muppet Babies comic book that Marvel published back in the 1980s.
So, that's all of the old Disney comics I can think of that I want to see in reprint collections by Joe Books. Are there any other Disney comics (besides the ones that IDW and Marvel are covering, that is) that you feel should have been included on this list? If so, feel free to mention them in the comments, and maybe I'll add them to this list. And if any of the things I have listed above do get released, I will gladly remove them from this blog post. In the meantime, when Joe Books does start publishing their own newly-made Disney comic books, I'll be sure to support them as much as I can.