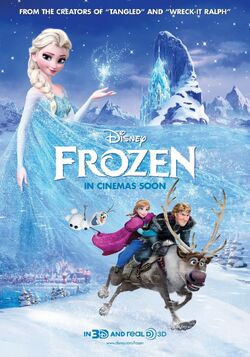 Frozen was one of Disney's most successful animated films. It ranks as the highest-grossing animated film of all time, the fifth highest-grossing film of all time, the highest-grossing film of 2013, and the third highest-grossing film in Japan. We LOVED that movie and now we're excited that Lincoln Square Productions and Walt Disney Animation Studios are collaborating on a project called "The Story of Frozen: Making a Disney Animated Classic," YAY!!
The TV special will venture behind-the-scenes for an exclusive look at the origins and evolution of the Academy Award-winning film and is supposed to air September 2 on ABC from 8-9pm ET! The stars of Frozen, Kristen Bell and Idina Menzel, along with the directors, songwriters, producer, artists, and chief creative officer John Lasseter will appear to give fans an inside look to what the process was like. Viewers will take a journey to the beautiful Norwegian villages and landscapes that inspired the look of Arendelle, and they can see images and footage from the research trips to Norway, Quebec and points beyond that helped create the film's unforgettable look and feel!

"The Story of Frozen: Making a Disney Animated Classic" will also include some exciting announcements about the next chapter of Frozen AND a never-before-seen preview of Frozen characters Anna, Elsa, and Kristoff on an upcoming episode of ABC's smash-hit Once Upon a Time! The program will then culminate in an exclusive sneak peek at the action-packed comedy-adventure "Big Hero 6," which is currently in production at Walt Disney Animation Studios. We're excited! Are you going to watch this TV special? Check out images from the special below!
---
---