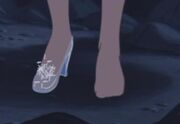 I know it was too late to discuss about
Cinderella
perhaps the film already released a few months ago. But late is more better rather than not, right?
The live-action movie is compeletely awesome! I'm glad Disney didn't much change the original stories with 1950 film, so the movie is still the classic one. But things that I want to discuss isn't the movie, but it is Cinderella's glass slipper. I want to share my question and answer all about Cinderella's glass slippers.
Question #1
Q: Why the glass slippers isn't lose after the midnight, as other magic are loses (carriage, horses, gown, etc.)? A: I'll answer that question with some opinion:
The glass slipper is a hint of The Prince Charming to meet the girl that he loves (Cinderella). Imagine if the glass slipper also loses as other magic does, how can Cinderella and Prince Charming met again? If does, I think the story will change: Cinderella's life will be suffer for ever with her step family, and The Prince will always feel loses the mysterious girl at ball.

In 2015 film, we see that The Fairy Godmother asked Cinderella to loose her flat shoes from her legs. Then she use the magic to make glass slippers for her. That means the glass slippers are made out of nothing.
Related with point 1, the Fairy Godmother doesn't disappear the slippers and used is as a hint for the Prince Charming as I said before, she just tried to help Cinderella to out from her suffer life.
Question #2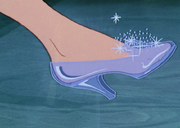 Q: Why just Cinderella that can fit the slipper? Many girls in the kingdom that may be have the same size of feet as her, one of them absolutely can fit their feet in the slipper.
A: One answer of this question is: this is not just ordinary slippers, it was created by magic. The slippers are given for Cinderella so it was belongs to her and other girls can't fits their feet with the slipper anymore.
Question #3
Q: Why the slipper doesn't ringing when Cinderella walked, dance, and run and glass slipper touched the floor. We're know objects made of glass while touching the floor will be ringing.
A: Same answer as Question #2, magic! May be the slipper were designed doesn't ringing and Cinderella can focused to be dance.
Question #4
Q: If the slippers were fits to Cinderella, why it's loose when she run out of the castle and fallen in the stairs?
A: Simple answer. It doesn't easier to wear a glass slipper. The glass slipper always be uncomfortable to wear, as beautiful as it was. The glass properties are sensitive to shock and impact reaction and easily broken. So that's not possible if the glass slipper were detached and thrown in any direction when the user run fast.

So, thanks for anyone who read this simple blog, and sorry if I made mistakes :)