"It's of-f-f-f-f-icial: Frozen 2 is in development at Walt Disney Animation Studios with directors Chris Buck and Jennifer Lee and producer Peter Del Vecho, the Oscar-winning filmmaking team behind Frozen.The news was announced at this morning's Annual Meeting of Shareholders by Bob Iger, Chairman and Chief Executive Officer of The Walt Disney Company; John Lasseter, Chief Creative Officer of Walt Disney and Pixar Animation Studios; and actor Josh Gad (voice of Olaf and all-around cool dude).We don't have an official release date for the film yet, but we do have so many hopes and dreams and excited screams and are jumping up and down! We can't believe this is real life!!"
That's what Disney.com said with an Oh My Disney blog. My reaction was "... Oh... Uh I guess that will be cool." Yeah, I wasn't so excited, but maybe it will be better then the first... Or worse! We don't know much about it. But hopefully it won't be as overrated. I still hope there will be a sequel or short for Big Hero 6. ...... Maybe perhaps some crazy cool way to bring back Tadashi. 😉 I don't know, but the future's not ours to see.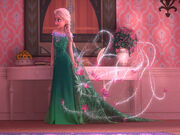 What do you guys think of Frozen 2?