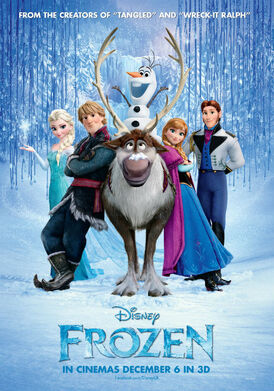 Frozen is a disney animated movie.frozen is directed by Chris buck and Jennifer Lee.the stars for frozen are Kristen Bell as anna,idina menzel as elsa,josh gad as olf and jonathon groff as kristoff and much more. Frozen it's about a quest to find Anna's sister elsa who trapped the kingdom for eternal Winter
•will ana find her sister? and will elsa bring back summer?
Frozen is already playing in a theaters near you in 3D.
Frozen includes songs such as:
•let it go sung by elsa
•let it go sung by Demi Lovato
•do you want to build a snowman sung by anna
•for the first time in forever sung by anna and elsa
And much more
Frozen will be great to watch for the winter holidays in with the family.