Hey Everyone i saw a Ultimate Cameo in Wreck-it Ralph its was Polybius. Yea you know this Urban Legend the Tempest-style game was released to the public in 1981, and caused its players to go insane, causing them to suffer from intense stress, horrific nightmares, and even suicidal. But Why Walt Disney Company is add this Evil Arcade Game so i think that Polybius is a Short Cameo that was Made Appeared.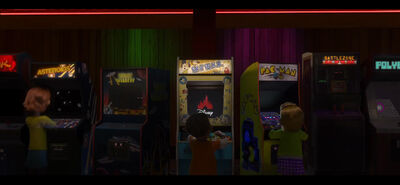 Here's the Picture that i Found (Special Thanks with Sony Vegas that i can Slow it to see the Arcade Games)
So Did you Think that Polybius was a Cameo?