I was originally going to do this on a forum thread, but I thought, "Why not try to make it into a blog series and see if it goes anywhere.
What this is is a series I'm thinking of doing where a character from the Disney Universe fights another character. One of the opponents can be from the Disney world or it can be outside of Disney. But one of them has to be from Disney. They pretty much fight to the death and you can determine to see who wins.
Anyway, here's the first one:
Who will win this fight?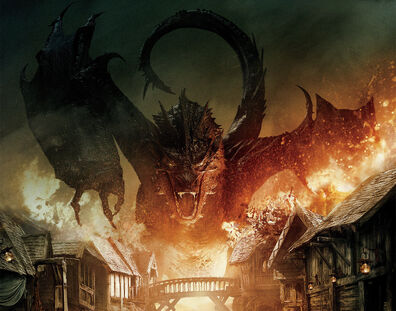 Arena:
Rules:
Maleficent can only stay in her dragon form. She cannot change to human form.
Fight to the Death!
Scenario:
The mighty Smaug the Dragon has been angered by Bilbo and company's attempt to steal his treasure. So, he unleashes his destructive fury on the town of Lake-Town. However, as he attacks the city, another dragon swoops in. It's Maleficent. Smaug is angry that this outsider dragon DARE enter his territory. He roars to the Empress of Evil and and the 2 dragons charge at each other, ready to fight to the death. 
WHO DO YOU THINK WILL EMERGE VICTORIOUS?
Some music to help you visualize the 2 dragons fighting.
10pxembed/lJ8gqqhnFDs1