Welcome to another episode of Disney Fights. Where 2 characters from various worlds will do battle, sometimes both will be from Disney or even one of them will not be.
Today's match is between 2 of the mightiest dinosaurs in fiction (one of them is real, but has greatly exaggerated power compared to its real life counterpart, thus making him somewhat fictional).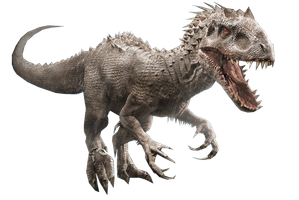 Which dinosaur will triumph? VOTE NOW! Also, just to be warned, there could be spoilers for Jurassic World amongst the comments if there are any, so if you have not seen Jurassic World yet (WHY HAVEN'T YOU SEEN IT YET, GO SEE IT ALREADY!!!), then read at your own risk.
Rules:
Arena: Isla Nublar (Jurassic World)
Indominus Rex is not allowed to camouflage
Carnotaur is the greatly exaggerated version from Disney's Disnosaur
FIGHT TO THE DEATH!