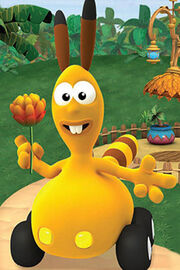 This is something I can
not 
stand at the moment. Remember the bright happy cartoon Jungle Junction from Playhouse Disney? Well, I was curious about one of the characters named Bungo, which is a bunny. Not aware of the things I would see, I decided to look Bungo up. I expected a bright, peaceful character. But what did I get instead? THAT ROLLIE THINGY RIGHT THERE ------------------------------------------------------->
WHAT THE HECK IS THAT?!
WHY WOULD PEACEFUL CREATORS OF A PLAYHOUSE DISNEY SHOW CREATE SOMETHING LIKE THAT?!
I mean, I expected a more detailed real bunny, but we all got hit with a buck-teeth flower-holding stripe-tail vehicle with a stump for a bunny nose.
I'm done, I am completely done with my childhood. I mean, why did they create monstrosity when they could stuck with cute, innocent characters like Jojo?
So what I'm asking is...
Who is the bright-minded culprit behind this?
Why did they do this?
And did you eat the last muffin this morning?