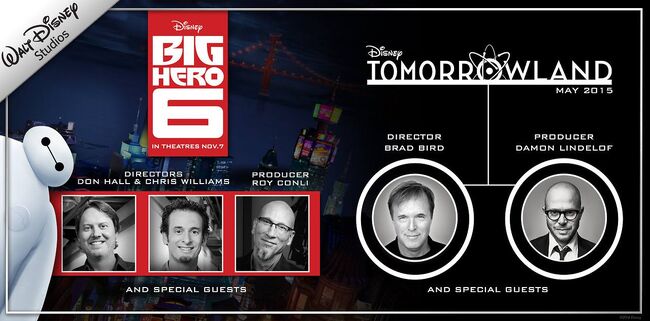 Walt Disney Studios has announced its plans to present Big Hero 6 and Tomorrowland at the 2014 New York Comic Con.
Walt Disney Animation Studios presents an exclusive look at their follow-up to last year's Frozen, Big Hero 6  with directors Don Hall and Chris Williams, producer Roy Conli and special guests. We already know that Scott Adsit, voice of Baymax, will be attending the Comic-Con for other purposes, so it's likely he too will join the presentation.
From Walt Disney Animation Studios, the team that brought you both Frozen and Wreck-It Ralph, comes Big Hero 6, an action-packed comedy-adventure about a special bond that develops between Baymax, a plus-sized inflatable robot, and prodigy Hiro Hamada. When a devastating event befalls the city of San Fransokyo and catapults Hiro into the midst of danger, he turns to Baymax and his close friends adrenaline junkie Go Go Tomago, neatnik Wasabi, chemistry whiz Honey Lemon and fanboy Fred. Determined to uncover the mystery, Hiro transforms his friends into a band of high-tech heroes called Big Hero 6.
Walt Disney Studios will also present an exclusive look at the upcoming disney live action film Tomorrowland with director Brad Bird, producer Damon Lindelof, and special guests.
From Disney comes two-time Oscar® winner Brad Bird's Tomorrowland, a riveting mystery adventure starring Academy Award® winner George Clooney. Bound by a shared destiny, former boy-genius Frank — jaded by disillusionment — and Casey, a bright, optimistic teen bursting with scientific curiosity, embark on a danger-filled mission to unearth the secrets of an enigmatic place somewhere in time and space known only as Tomorrowland. What they must do there changes the world — and them — forever.
Featuring a screenplay by Brad Bird and 'Lost' writer and co-creator Damon Lindelof, from a story by Lindelof & Jeff Jensen and Bird, Tomorrowland promises to take audiences on a thrill ride of nonstop adventures through new dimensions that have only been dreamed of.
The film also stars Hugh Laurie as brilliant scientist David Nix, Raffey Cassidy as Athena and Thomas Robinson as young Frank, as well as Kathryn Hahn, Tim McGraw, Keegan-Michael Key and Judy Greer. Tomorrowlandis produced by Damon Lindelof, Brad Bird and Jeffrey Chernov and directed by Brad Bird, with Jeff Jensen and John Walker serving as executive producers.
External Links
Edit
---
---