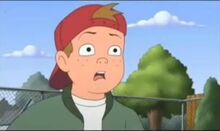 [[Image:|258px]]
T.J. Detweiler
Background information
Feature films
I own a lot
Television programs
I own a lot of those, two
Video games
I have a lot for my SNES, Gamecube, Wii, Gameboy, and DS.
Park attractions
They are fun
Portrayed by
Portrayed by
Animators
Voice
My own voice...but if I was ever in an animated show, I'd probably be voiced by Pamela Adlon.
Performance model
Designer
Inspiration
Honors and awards
Character information
Full name
NAME AND ADDRESS WITHHELD
Other names
Michelle
Personality
Sarcastic, funny, friendly, geeky
Appearance
Slender, blonde hair that goes up to shoulders, blue eyes, glasses, Disney or PPG T-shirt, shorts (or jeans), sneakers
Birthday
August 21, 1996
Occupation
Your basic average girl, and she's here to save the world, you can't stop her 'cause she's...wait...
Affiliations
Good
Goal
Home
A house
Relatives
Mom, dad, annoying little Satan of a brother
Pets
Three cats (one deceased)
Allies
Lots!
Minions
Enemies
Likes
Disney, computers, My Little Pony: Friendship is Magic, animation, music
Dislikes
Disney Channel, present-day Nickelodeon
Powers and abilities
A few superpowers, due to Chemical X.
Weapons
Madame Fist
Fate
REALLY REALLY BORED
Quote
[Source]
For love and justice, a cute editor in a red hat and green sweater, T.J. Detweiler! In the name of Disney, I shall punish you!
Hey, it's me, T.J. Detweiler. You can call me Teej. Disney has and still is my life, and my first Disney movies (on tape) were The Lion King, The Jungle Book, Fun and Fancy Free, Toy Story, Bambi, Alice in Wonderland, and Sleeping Beauty. Those were the ones I started with. I have a lot more...
Favorite Disney movies? Really hard. I love all of them (minus G-Force, Mars Needs Moms, and present-day Disney Channel (except Phineas & Ferb, I love that show)), and I can't even make a top five!
I also like a lot of Disney's TV shows (again, minus a lot of the new stuff on Disney Channel), and I really loved the One Saturday Morning block. As you can tell,
Recess
is one of my favorite Disney shows. I also love
Doug
,
Pepper Ann
,
Lizzie McGuire
,
101 Dalmatians: The Series
,
The New Adventures of Winnie the Pooh
,
Kim Possible
, and a whole whompin` lot more.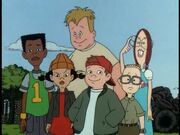 I love Disney World, even if I only went two times (once in January 2001; again in April 2011). We're planning on going again, but we don't know when. My favorite rides are Splash Mountain, Big Thunder Mountain Railroad, and Space Mountain. I have never been to Disneyland, however my parents have gone there on their honeymoon.
Oh! Now for some other whomp! My birthday is August 21, 1996. I'm a girl (yes, despite what my username is. Hey, he's my favorite character) with short blond hair with bangs, blue eyes (with glasses), and am very slender. I am somewhat of a geek, and I have asperger's syndrome. I own one cat (three, but my first one (who I was the closest to) died in 2008 after getting hit by a car, and my second one ran away and never came home). Aside from Disney, I also love anime, drawing, music, My Little Pony: Friendship is Magic, and `90s Nick. I'm a huge animation fan.
My websites
Userboxes
| | |
| --- | --- |
| | This user is a HUGE Disney fan. |
| | |
| --- | --- |
| | This user admires Walt Disney. |
</span>
| | |
| --- | --- |
| | This user is a fan of Pixar. |
| | |
| --- | --- |
| | This user is a fan of the the Winnie the Pooh franchise. |
| | |
| --- | --- |
| | This user had just seen an elephant fly in Dumbo. |
My favorite pages