Happy birthday!
Today is Doofenshmirtz95's birthday! Greet him a happy birthday!
Cast Member!
This user is an admin on The Disney Wiki! (

verify

)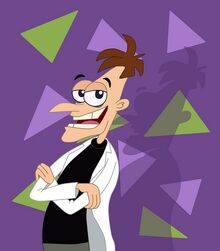 Hi my name is Doofenshmirtz95. I am a huge fan of everything Disney and love to help out to other users at this wikia. Plus I love Heinz Doofenshmirtz! Anyhow, enjoy my page.
My Userboxes
This user is a chat moderator on Disney Wiki. (

verify

)

This user has rollback rights on Disney Wiki. (

verify

)

This user is an admin on

Lucasfilm Wiki

.

| | |
| --- | --- |
| | This user is a HUGE Disney fan. |

| | |
| --- | --- |
| | This user is a fan of Pixar. |

| | |
| --- | --- |
| | This user is a HUGE Marvel fan. |

| | |
| --- | --- |
| | This user had just seen an elephant fly in Dumbo. |

| | |
| --- | --- |
| | Reach for the sky, this user's favorite character is Sheriff Woody. |

| | |
| --- | --- |
| | This user had the best day ever with Rapunzel! |

| | |
| --- | --- |
| | This user is no object, they fight for the ones they love like Jasmine. |

| | |
| --- | --- |
| | Curse you, Doofenshmirtz95! This user wants to take over the ENTIRE TRI-STATE AREA! |

| | |
| --- | --- |
| | At last this user can See the Light, and it's like the fog has lifted. |

| | |
| --- | --- |
| | This user's heart was warmed by Anna. |

| | |
| --- | --- |
| | This user fell into the icy world of Frozen. |

| | |
| --- | --- |
| | This user saw the new prince born in Bambi. |

| | |
| --- | --- |
| | This user is best buds with Genie. |

| | |
| --- | --- |
| | This user is a fan of C-3PO Human Cyborg Relations |

| | |
| --- | --- |
| | This user is a fan of R2-D2 Beep. |

| | |
| --- | --- |
| | Hi, Doofenshmirtz95, my name is Dug, I have just met you and I love you. SQUIRREL! This user is willing to help his new master. |
Allies:
Favorite Pages on this wikia: