Ursula Timmcoy is a member of the Other Side who was hired by Victor to kill K.C. Cooper and Brett Willis in "K.C. and Brett: The Final Chapter - Part 1". She has broken up with Brett. She is seemingly a skillful spy as seen with laser guns, martial arts in the froyo store, driving, climbing, tracking and horseback riding.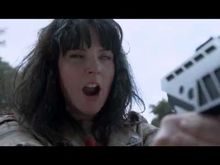 Ad blocker interference detected!
Wikia is a free-to-use site that makes money from advertising. We have a modified experience for viewers using ad blockers

Wikia is not accessible if you've made further modifications. Remove the custom ad blocker rule(s) and the page will load as expected.