Ursula
Background information
Feature films
The Little Mermaid
The Little Mermaid II: Return to the Sea (portrait cameo and mentioned)
Mickey's Magical Christmas: Snowed in at the House of Mouse
Mickey's House of Villains
Short films
Television programs
The Little Mermaid
Hercules (cameo)
House of Mouse
Once Upon a Time
Video games
The Little Mermaid
The Little Mermaid 2: Pinball Frenzy
Kingdom Hearts
Kingdom Hearts: Chain of Memories
Kingdom Hearts II
Kingdom Hearts 3D: Dream Drop Distance
Disney Princess
Disney Universe
Disney Princess Enchanting Storybooks
Disney Princess: My Fairytale Adventure
Epic Mickey: Power of Illusion
Hidden Worlds
Disney Villains Challenge
Park attractions
Fantasmic!
Voyage of the Little Mermaid
The Little Mermaid: Ariel's Undersea Adventure
Starlight Dreams
Walt Disney's Parade of Dreams
Mickey's Boo-to-You Halloween Parade
Sorcerers of the Magic Kingdom
SpectroMagic
The Golden Mickeys
Disney Dreams
World of Color: Celebrate!
Portrayed by
Portrayed by
Lana Parrilla and Merrin Dungey (in Once Upon a Time)
Tiffany Boone (Young Ursula in Once Upon a Time)
Animators
Ruben A. Aquino
Nik Ranieri
Kathy Zielinski
Rob Minkoff
Voice
Pat Carroll
Jodi Benson (as Vanessa)
Yvette Nicole Brown (Once Upon a Time)
Performance model
Queen Latifah (in Disney Dream Portrait Series
Designer
Inspiration
The Sea Witch in the Fairy Tale by Hans Christian Andersen
Divine, an American drag performer
Norma Desmond from Sunset Boulevard
Madame Medusa
Honors and awards
Character information
Full name
Other names
Vanessa (her human alter-ego)
Arsulu (her mermaid alter-ego)
Personality
Power-hungry, manipulative, ambitious, dark, sinister, polite, persuasive, highly intelligent
Appearance
Obese, octopus-like, light lavender skin, mole on her right cheek, both red lips and fingernails, white hair, aqua eyelids, gray eyes, purple coral shell earrings, black cord with a gold nautilus shell
Occupation
Sea Witch
Alignment
Bad
Affiliations
Disney Villains
Goal
To rule the seas (failed)
Home
Her lair in the corpse of a Leviathan called the "Serpentine"
Relatives
Morgana (sister)
Unnamed mother
Pets
Flotsam and Jetsam (eels)
Allies
Flotsam and Jetsam, Glut, Morgana, The Octopids
Minions
Flotsam and Jetsam
Enemies
Ariel, King Triton, Sebastian, Flounder, Prince Eric, Urchin, Zeus the Crab, Scuttle, Gabriella
Likes
Her darlings, power, destroying merpeople's happiness for her own gain, causing despair for others
Dislikes
Starvation, anything to do with King Triton, people forgetting her birthday, being second-best, failed spells, Sebastian
Powers and abilities
Magic potions, size alteration, metamorphosis, the ability to turn merfolk into condemned polyps
Possessions
Her Necklace
Weapons
Fate
Gets brutally impaled by a shipwreck's bowsprit commandeered by Prince Eric while trying to destroy Ariel, electrocutes fatally, and explodes until her pieces sank to the ocean floor with the ship that impaled her
Quote
"Triton's daughter will be mine, and then I'll make him writhe. I'll see him wriggle like a worm on a hook!"
[Source]
"I admit that in the past I've been a nasty... they weren't kidding when they called me, well, a witch."
―Ursula singing
Ursula is the main antagonist of Disney's 1989 animated feature film The Little Mermaid. She is a villainous cecaelian sea witch who "helps" unfortunate merfolk to achieve her own goals.
Ursula has become one of the most popular and iconic of all the Disney Villains since her debut, and is one of the franchise's primary members.
Background
Development
Ursula
Ursula is based on the "sea witch" character in Hans Christian Andersen's story The Little Mermaid. In the original story, the sea witch is a neutral enabler, but for Disney's animated adaptation, the character was modified into a full-fledged antagonist and plays a larger role in the overall story.
Her appearance is of a plump light lavender-skinned, white-haired female human and from the waist down has black octopus-like tentacles. The character has been compared to Madame Medusa from The Rescuers in terms of style, dramatics and choice of minions.
During pre-production, Ursula was not originally designed as a Cecaelia; a legendary hybrid of human and octopus. It was thought that she would be another sea creature, such as a rockfish or lionfish, or would have a snake-like appearance, as revealed in The Disney Sketchbook. The production team then saw a documentary about octopi, and decided that their multiple arms and imposing appearance would be perfect for the character they were creating. Ursula is only drawn with six tentacles, due to the studio's budget and difficulty in coordinating eight tentacles (though she has eight limbs if you include her arms). Pat Carroll has stated that this makes her a squid, though biologically she still resembles an octopus far more than any other sea-creature. Her basic look was based on the Drag performer Divine, but Divine died before they could get his voice.
Pat Carroll, Ursula's voice actress, envisioned the character as "part Shakespearean actress, with all the flair, flamboyance and theatricality, and part used-car salesman with a touch of con artist." Carroll, who is a contralto, deliberately deepened her voice for the role.
Vanessa
During development, Vanessa's, Ursula's alter ego, story arc went through radical changes as revealed by a leaked script online. Originally, Vanessa's method of hypnotising Eric was different; instead of suppressing his free will and eliminating his capability to display emotion, she let him have a broader range of emotion and gave him some free will. The point of this sort of hypnosis was to influence Eric in Vanessa's direction and accept her over Ariel on his own, emphasising deception over the brute force from the final film.
After Vanessa hypnotises Eric, he introduces Ariel to her on the morning of the third day, announcing that they will be married by sunset. This is vastly different from the final film where Ariel eavesdrops on their announcement before running away, never getting a good idea at who Vanessa is until Scuttle tells her. To make up for being so close to Ariel, Vanessa wears a scarf in the original script as a way to hide her nautilus necklace and not arouse suspicion from Ariel. When Ariel runs away Eric is about to run after her, but Vanessa pulls him back and gives him a kiss on the cheek; using Eric's love for her as a way to intimidate him.
The scene inside the cabin is exactly the same as the film, but the wedding itself has noticeable differences. In the original Vanessa was actually eager to marry Eric and was impatient about the wedding being done before sunset suggesting some ulterior motive aside from just taking Ariel. In the original script she also gets to actually say "I do" unlike in the final product.
Vanessa isn't able to kiss Eric though, as the ceremony is disrupted by an explosion off the side of the ship and Scuttle's small army shows up and begins to attack Vanessa. Vanessa fights back in the original version, much like in the film, but quickly stops when she realizes she is blowing her cover as a sweet innocent girl. She then begs to Eric to protect her, which he does. Since Scuttle can't get close to Vanessa he intends to reveal her true form to Eric by bringing up the mirror from her cabin. He crashes into a pole and the mirror breaks, but Eric is able to see Vanessa for what she is from the reflection of the water the sea creatures brought on board the ship. This breaks the illusion and he rejects her for Ariel. At this point Vanessa's voice returns to sounding like Ursula's, presumably because the spell has broken, and Eric and Ariel are about to embrace. Much like in the final movie, the sun sets before they can kiss, and Vanessa turns back into Ursula, dragging Ariel back with her under the sea.
In this ending, Ariel does not get her voice back until the very end, which changes the dynamic of the scene entirely. No explanation was ever offered as to why this half of the ending was changed.
On a separate note, early storyboard concept art revealed that Vanessa and Eric would have originally been married at the castle instead of on a ship, with Ariel lurking above in observance. This change may have been made to add a sense of urgency for Ariel to stop the wedding by having it take place somewhere else. It also may have been done to create a better transition between the wedding scene and the final battle underwater. 
Vanessa's role in the film is inspired by the original Andersen tale. In that story, after the prince has been rescued by the mermaid, he is found on the beach by a princess whom he believes to have saved him. Later on, after the mermaid becomes human, she discovers that the prince will be marrying the maiden. In the end the maiden marries the prince while the mermaid (who chose not to kill the prince despite the urging of her sisters) dies and ascends to a spiritual rebirth. The maiden, like the Sea Witch, was also a neutral entity rather than a villain.
In the book the maiden does not speak, and is presented as being spritely and innocent. She is very much in love with the prince though, snuggling up to him while not being possessive of him, as she did not object to his friendship with the mermaid. Vanessa's façade is based on imitating this behavior while snickering behind others' backs and eliminates the presence of this secon
Personality
Ursula is a very dark and sinister villain with a wicked sense of humor. Ursula is very manipulative and has a talent of making great sense and making persuasive points when trying to strike a deal. Unlike many Disney Villains, most of whom care very little for their followers, Ursula puts her henchmen Flotsam and Jetsam before anything and everyone else. Ursula treats the eels like beloved pets and refers to them as her "babies" or "poopsies". When the eels are accidentally killed by Ursula because of Ariel, she mourns and takes all of her rage and sadness out on Ariel and attempts to kill her once and for all.
She is known to fill the heads of merpeople with deceptions; she feeds Ariel with the lie (or at best half-truth) that men on the surface like silence in women. In fact, Prince Eric loved Ariel's voice, and Ursula manipulated her into giving up precisely the thing that would have let him recognize the mysterious girl who had saved him from the sea.
Despite using magical contracts to get her way, Ursula has little regard for following her end of the bargain. This is demonstrated when immediately after Triton signed away his freedom for Ariel's safety, Ursula claims she'd have no qualms killing Ariel, despite being implied to have promised to not harm Ariel as a condition of the contract, and gleefully tries to in the final battle, though the latter instance is possibly due to Ariel being the cause of Flotsam and Jetsam's deaths. She also expects standards in her home, even telling Ariel "We mustn't lurk in doorways. It's rude."
Abilities
Ursula's magical abilities, even without the Trident, were very potent. She was able to concoct various potions to create various spells, including mass-transfer (implied during the song "Poor Unfortunate Souls") as well as physically altering people's bodies, as evidenced by her transforming Ariel into a human, as well as her own transformation into Vanessa and Ursula (although in the case of Vanessa, she needed Ariel's voice to disguise her own). However, she was incapable of altering her reflection, which is eventually how her enemies got the drop on her. When it comes to physical powers, Ursula possesses Superhuman Strength, though not as strong as Triton, yet strong enough to throw a mermaid to a rock, as what she did to Ariel in the alternate ending of the movie.
She was also capable of creating poisonous ink clouds which could absorb the energy of the Trident, and enhancing Ursula's power. Her most dangerous ability, however, was her ability to turn people into polyps should they fail to fulfill their end of the bargain via contracts, having done so multiple times under unspecified circumstances, nearly did so with Ariel, and successfully did so with Triton. It's also implied that she absorbs their souls while transforming them into polyps, making herself more powerful in the process. Likewise, once the contract is made, it is indestructible even to someone as powerful as Triton.
Presumably, this arcane power is one-way, as she does not end up becoming a polyp for failing to fulfill her end of the contract. In fact, the only way to completely stop a contract short of fulfilling it is via her death, as evidenced by the aftermath of her death at the hands of Prince Eric.
Appearances
"Flotsam! Jetsam! I want you to keep an extra close watch on this pretty little daughter of his... She may be the key to Triton's undoing."
―Ursula
When Ursula first appears in the film, she states through monologue that she once lived in the royal palace of King Triton, the king of the underwater city of Atlantica. She was banished from Atlantica and made her home in the remains of a leviathan where she waits the chance to get her revenge on Triton and become Queen of Atlantica.
The entrance to Ursula's leviathan home is lined with a garden of writhing polyps which were merfolk who had previously gone to Ursula for help, but found themselves unable to fulfill their side of the bargain, leading Ursula to claim them as her own and added them to her collection. The garden of polyps are part of the original fairytale, but are simply guards of the way to the sea witch's home, and not condemned merfolk.
Ursula commands her minions, moray eels Flotsam and Jetsam, to watch Triton's youngest daughter Ariel, whom might be "the key to Triton's undoing". Opportunity arises when Ursula learns that Ariel has fallen in love with a human (a prince named Eric), against Triton's explicit rules. Flotsam and Jetsam lure Ariel to Ursula's lair, claiming that only Ursula can help her.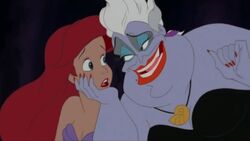 Through the song "Poor Unfortunate Souls", Ursula proposes an agreement where she will transform Ariel into a human for three days, during which Ariel must receive the "kiss of true love" from Eric. If Ariel succeeds, her transformation into a human will be permanent, but if she fails, she will turn back into a mermaid and be bound to Ursula for eternity.
The price for the transformation is Ariel's voice (which Ursula will keep no matter what happens). Ariel agrees and signs a contract that Ursula has conjured. As Ursula orders Ariel to sing, the sea witch summons magical hands to rip out Ariel's voice, which is then magically pulled into Ursula's Nautilus shell necklace. She then laughs gleefully as her plans begin to unfold: Ariel's tail is split into legs. In comparison, the original fairytale involves the sea witch taking the little mermaid's voice by cutting off her tongue, and her tail was transformed into legs by a magic potion which the mermaid was to drink on the beach surface.
During the time that Ariel is a human and must win a kiss from Eric in order to remain human permanently, Ursula takes every measure to prevent the kiss from occurring, such as when Flotsam and Jetsam tip over the boat in which Ariel and Eric are sitting on as the two are close to kissing. Fearing that Ariel may be better at performing the task than Ursula has thought and that Eric will be kissing Ariel by sunset for sure, Ursula decides to take matters into her own tentacles, determined to make Ariel hers for eternity and to make Triton writhe. She then takes the form of a beautiful human female with Ariel's voice in order to sabotage her relationship with Eric.
After transforming herself into a human by the name of "Vanessa", Ursula bewitches Eric to marry her, but the wedding is disrupted by interference from Scuttle and other sea animals he called to help. In the chaos, the Nautilus shell containing Ariel's voice is broken, breaking the enchantment and returning Ariel's voice back to its owner.
However, the sun sets before Ariel and Eric can kiss and Ariel changes back into a mermaid. Ursula, restored to her normal form, grabs Ariel and jumps back into the sea, where she is confronted by King Triton. She reveals her true goal, and forces Triton to choose between his freedom and his daughter's. Triton agrees to take Ariel's place, and once Triton is transformed into a polyp, Ursula takes the crown and magical trident.
Ariel is angry at Ursula for what the latter has done to the former's father and tries to fight. Ursula threatens to kill her with the trident, but is hit in the shoulder by Eric with a harpoon. Angry, she sends Flotsam and Jetsam to kill him, but Sebastian and Flounder save him. Ursula then prepares to kill Eric with the trident, but Ariel pulls on her hair, which makes her shot miss Eric. Instead, the shot accidentally hits her eels and destroys them.
Saddened and enraged by the death of her minions, Ursula grows into a giant and declares herself as the ruler of all the ocean with the ability to control the waves, the sea and all its spoils. She then creates a rainstorm to separate Eric from Ariel and a whirlpool to raise some shipwrecks. The sea witch then imprisons Ariel at the bottom of the whirlpool and decides to test her new powers by killing the princess as her first tyrannical act. Using the trident, Ursula fires multiple destructive blasts at Ariel, who just barely manages to avoid them. Ursula laughs wickedly and prepares an unavoidable blast that would destroy Ariel forever as well as her true love dreams. She is concentrating hard on finishing the princess that she doesn't notice that one of the shipwrecks is heading toward her due to Eric having taken control of that ship. Just as Ursula is about to fatally blast Ariel, Eric impales the sea witch by plunging the ship's splintered bow through her abdomen. As Ursula screams in pain, the bow catches lightning during the storm that electrocutes her and seals her for good cutting her reign of terror short. After Ursula's fate was sealed, all the merfolk that have had been under her power, including Triton, are released from their bonds as they transform back into their original forms. Her death soon allowed Eric and Ariel to kiss for the first time.
In the 2006 Platinum Edition DVD release of the film, deleted scenes revealed early concept ideas where Ursula is Triton's sister, making her Ariel's aunt. This concept was not used in the final film, though it sometimes resurfaced in spinoff material, and is in the Broadway musical.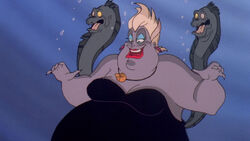 Ursula appears as the primary and most recurring villain on the The Little Mermaid prequel television series. The episodes she appears in are "Against the Tide", "Tail of Two Crabs", "Heroes" and "Ariel's Treasures". In all of these episodes, she executes various plans to antagonize King Triton and take over Atlantica.
In "Against the Tide", Ursula has been experiencing failures in her most recent magic spells. She believes it to be the work of an odd sea creature that is said to cause bad luck whenever it's around. Ursula decides to destroy the creature, but Ariel rescues it, as she believes it to be harmless. Eventually, the creature's whereabouts have been located at Triton's palace, and Ursula invades the palace during King Triton's homecoming. She prepares to eliminate the beast by using the stolen magic of the trident, though Sebastian was clever enough to make a makeshift version of the creature, and trick Ursula into destroying it instead. With the beast supposedly gone, Ursula departs.
In "Tail of Two Crabs", Ursula takes advantage of Sebastian's jealously towards his rival Zeus the Crab, by transforming into Sebastian's "Fairy God Crab". She offers him a wish if he can recover a rare artifact holding great power. Sebastian delivers, and Ursula is able to turn King Triton, Flounder, and Ariel into sea worms. Luckily, Zeus is able to subdue Ursula and revert her curse.
In "Heroes", Apollo, a legendary hero who once saved Atlantica from Ursula and her army of octopuses, returns to Atlantica, just when Ursula decides to revive her old army in an attempt to dominate Atlantica once more. Like the previous battle however, Apollo prevails with the help of the fire-breathing Sea Dragon. It is also implied in this episode that the reason behind her exile was because she tried to create copies of the Trident, referred to as dark tridents, for the aforementioned army against Atlantica.
Lastly in "Ariel's Treasures", Ursula enchants the human items in Ariel's grotto, in an attempt to wreak havoc on Atlantica.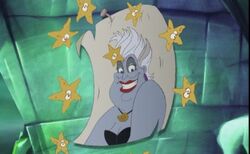 Ursula doesn't actually appear in this direct-to-video sequel, but she makes a cameo and is mentioned various times, mostly by her sister Morgana, also a Cecelia (who has eight tentacles instead of Ursula's six).
Ursula, herself, can be seen in a picture within Morgana's lair. Interestingly, she serves as the driving force for Morgana's story arc, though not exactly in the sense of revenge. Rather, Morgana feels eliminating Triton and stealing the throne would prove her superiority over her sister, as the former spent most of her life in Ursula's shadow.
At the end of the film, after Morgana is imprisoned within an icy statue and forced to sink to the darkest depths of the sea, the framed picture of Ursula makes one last appearance, sinking alongside her.
In the deleted, yet fully animated song "Gonna Get My Wish", a younger Ursula makes a brief appearance in the form of a flashback, alongside Morgana and their mother. The scene also gives a visual representation of Ursula's past and relationship with Morgana. In their youth, Ursula wears a purple bow tied to her hair.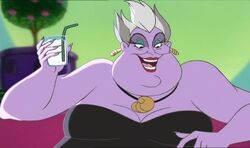 Despite her death in the film, Ursula made numerous cameos in the series House of Mouse, often seen alone or with Ariel.
In "Ask Von Drake", she was seen popping out of Ariel's giant shell during the Ludwig Von Drake Song. In "Pete's House of Villains", she replaced Daisy at her desk after Pete took over. In "Jiminy Cricket", Jiminy gives Ariel advice resulting into taking her voice back from Ursula. Her mode of transportation was seen as a wave vehicle. At the end of "Max's Embarrassing Date", Ursula is seen in an advertisement attempting to steal the voice of Max Goof's girlfriend Roxanne. In "Mickey and Minnie's Big Vacation", Ursula was one of the many guests to be annoyed when the Pink Elephants are briefly released. She was also part of the all-female guest list in the episode "Ladies' Night".
In the episode "House of Crime", Goofy interrogates Vanessa, asking if she has seen any disguised villains. She silently shakes her head, and then transforms back into Ursula when Goofy leaves her table.
Ursula was also one of the lead villains in Mickey's House of Villains, and was also seen in Mickey's Magical Christmas telling Mickey that she wants his voice for Christmas.
Cameos
Ursula appears in the Hercules: Animated series episode, "Hercules and the Bacchanal" as she tries to sell perfume to Hercules and Hermes.
Live-action appearances
Sea Goddess
In the fantasy drama series, Ursula is a mythical sea goddess who is considered a myth by merfolk as she hasn't been seen for a thousand years. This identity appears in the episode "Ariel", where in the episode, the eponymous Ariel prays to her for guidance so she can be able continue her life as a human and forever be with Prince Eric. Using this opportunity, the Evil Queen appears as Ursula to Ariel and gives her a magic bracelet that gives the wearer Ariel's tail in exchange for their legs. Ariel, in an act of gratitude for Snow White's earlier help, gives the bracelet to Snow so that she can live her life free from the Queen while Ariel gets to be with Eric.
However, Snow White tries to tell Ariel that Ursula isn't real. Much to Ariel's shock, Regina shows up and admits this was a way to get Snow using Ariel. She then gives Ariel an ultimatum: leave Snow with Regina and live happily with Prince Eric, or perish along with Snow. Ariel appears to choose the first choice, but then stabs Regina with a fork and removes the bracelet from Snow, who then escapes with Ariel into the water. After delivering Snow safely onto land, Ariel returns to tell Eric how she feels, but when she attempts to speak, she discovers that her voice is missing. Regina, standing on the docks, reveals she had taken her voice so Ariel can never tell Prince Eric how she truly feels. Ariel becomes devastated, and Regina proceeds to tell Ariel to leave.
When Regina returns to her castle, she looks into her mirror and discovers Ursula herself, proving that Ursula is indeed real. Ursula then grabs Regina with her tentacles through the mirror itself, threatening a fearful Regina to never pose as her again, or she will prove to Regina "just how real she is", before subsequently letting her go and disappearing.
Although Ursula's physical appearance is largely based on the Disney version, her personality is closer to that of the original Hans Christian Andersen tale, being largely a neutral entity, although will get vengeful when someone poses as her.
Sea Witch
A second Ursula appeared as one of the main antagonists in the second half of the fourth season, played by actress Merrin Dungey while Tiffany Boone played the young Ursula. She made her season four debut in the episode "Heroes and Villains". She was originally a mermaid princess and the daughter of King Poseidon, named after the original sea goddess. Her backstory is similar to Ariel (from the movie), because she had a beautiful singing voice and lost her mother who had been killed by a pirate. Her father developed a xenophobic grudge against humans and use the voice talent of Ursula to lure sailors to their doom. However, she refused to attack the Jolly Roger, saving Captain Hook and his crew. In grudge with her father, she steals a magic bracelet from his vault, allowing her to become human. She becomes a pub singer and befriend Hook. However, Hook had concluded a pact with Poseidon to trap her singing voice within an enchanted shell in exchange for squid ink, to neutralize his nemesis Rumplestiltskin. Instead, Ursula herself steals the ink from the vault for him just as her father arrives to take the procured item away.
Angered that the ink has been crushed, Hook removes her voice so the King can never use her to sink another ship again. Betrayed and developing a great hate against the human and her father, Ursula decided she no longer wanted to be a mermaid and used her father's trident to transform her fin into tentacles, becoming the Sea Witch. Later, Ursula is invited to the Forbidden Fortress by Rumplestiltskin, where she meets Cruella De Vil and Maleficent. Rumple used the three villainesses to get the Dark Curse, but the witches in turn had to face the Chernabog. Later, she become good friends with the two witches and the three became associates. They work together to steal a magical gauntlet from Rumplestiltskin, capable of revealing the weaknesses of their enemies. Once they learn this crucial information, they'll be able to come out on top, having had enough of constantly facing defeat. To do so, the villains kidnapped Rumple's servant, Belle and held her for ransom. Once Rumple arrived at the transaction point, Belle was covered in Ursula's tentacles to prevent her from escaping. Her grasp increased with time due to Rumple's hesitation, but once the Dark One handed over the gauntlet, Belle was released. Later, she, Cruella and Maleficent ask for help from Snow White and Prince Charming in stopping the Evil Queen. But once their plan fails, Ursula asks if she can choke the duo with her tentacles, claiming that they are bored. She and Cruella remained Maleficent's primary associates (and somewhat henchmen) and guarded the cave in which Maleficent rested with her unborn child. After the baby is stolen by the heroes they previously worked with, Ursula and Cruella chase them down, where they end up being transported to the Land Without Magic, using the magic from dragon egg containing the baby to stay young.
Many years later after the Dark Curse, Ursula was seen in the Land Without Magic working as an aquarium worker in New York feeding the fish there. Mr. Gold finds her (after being forced out of Storybrooke by Belle) and offers her a chance to get even with the heroes and find the Author. They then head out to find Cruella De Vil and Maleficent. Ursula and Mr. Gold find Cruella De Vil in Long Island. Upon using Mr. Gold's cellphone, Ursula and Cruella make a deal with Regina to let them into Storybrooke in exchange for info on how to defeat the Chernabog. After the Chernabog disappeared upon being thrown over the town line, Ursula and Cruella were invited into Storybrooke. Later that night, Ursula and Cruella get Mr. Gold back into Storybrooke and work to bring Maleficent back from the dead.
But soon her intentions drift when she sees Hook in the forest so Ursula heads out to confront him, where he agrees to give back her singing voice so she can tell him about Mr. Gold's plans. Since the shell that trapped her voice is in the Enchanted Forest aboard the Jolly Roger, she uses a piece of the ship's rigging to open a portal and cross realms to bring the vehicle to Storybrooke's harbor. She succeeds, however, the ship arrives shrunken and encased in a bottle. From Will, it is restored to normal size with a magic essence. Below ship deck, Hook gives Ursula the shell containing her singing voice, but she is unable to reabsorb it. Disappointed, she considers her happy ending is still impossible without the Author's help, causing her to void her deal with Hook, who pulls a gun on her. She easily knocks him out and throws him into the water before returning to the cabin. There, she assaults Mary Margaret, who arrived with Emma and David to rescue August. As Ursula refuses to relent, Hook returns with her father, Poseidon, who can restore her voice since he originally enchanted the shell. Poseidon apologizes to Ursula for using her singing voice as a weapon and he expresses regret over not cherishing her gift to honor her mother's memory. After regaining her voice, Ursula fully reconciles with her father and decides to go home with him. Before leaving, she tells Hook about Mr. Gold's scheme to dethrone Emma as savior and make her evil. As Ursula explains, Emma gave everyone their happy endings in this world, and once she is not the savior anymore, only then the Author can give the villains what they want.
Printed material
In the first two issues of the official "The Little Mermaid" comic, Ursula appears briefly to negotiate with a race of eel-men for the carcass of a Leviathan which she would convert into the home seen in the 1989 film. She also briefly appears in a segment of the fourth issue, where she tries to create a new hairstyle to entertain her due to banishment from Atlantica making her lonely on her birthday, but it backfired on her. She doesn't appear in the Marvel Comics serial for The Little Mermaid, although a character similar to her appears known as Pirhaia in the penultimate issue. Ursula frequently appears in Ariel's comics in the Disney Princess magazines, often in a villainous role. In the Disney Press book The Villain Files, it is implied that Ursula is Ariel's aunt, a concept that is based on the abandoned story concept of the 1989 film.
She also appears in the manga series of Kingdom Hearts and Kilala Princess.
In The Little Mermaid version of My Side of the Story, Ursula claimed she was a protagonist, and revealed to have been romantically infatuated with King Triton, supposedly.
Ursula is first mentioned in the saga in the third book when a cast member says Tigger was spying on her. In the fifth book, she appears at Typhoon Lagoon when King Triton is talking with Finn. She has power of the water and even creates a whirlpool where Finn almost drowns. She also appears on the cover of Kingdom Keepers V: Shell Game.
Poor Unfortunate Soul (upcoming)
Poor Unfortunate Soul will be the third Disney novel in a series that explores the untold backstories of famous Disney characters. It is set to be released before the end of 2016. [1][2]. 
Ursula is mentioned in the second novel The Beast Within: A Tale of Beauty's Prince by author Serena Valentino. In the novel, it is mentioned that Ursula lives in a kingdom adjacent to that of Belle and Prince Adam, and when Prince Adam dumps his fiance prior to Belle, she attempts to drown herself. Ursula then rescues her and trades her her life for her beauty. The Enchantress then goes to Ursula to convince her to give up her deal in exchange for something else. In the end, she convinces her.
Video games
Ursula is a recurring villain in four installments of the Kingdom Hearts series. Originally, she was a member of the legion of Disney villains led by Maleficent who sought to dominate the worlds via the power of darkness and control over fearsome creatures known as the Heartless.
In Kingdom Hearts, Ursula is able to manipulate Ariel into handing over the trident, wanting to use it take control of the ocean. However, due to the efforts of the game's protagonists Sora, Donald, and Goofy, Ursula is defeated and vanishes into the darkness, alongside other villains who were slain by Sora and co.
In Chain of Memories, Ursula makes an appearance in Kingdom Hearts: Chain of Memories as a figment of Sora's memories, using Flounder to force Ariel into giving her the trident, claiming she'll have the guppy killed if she refuses.
Ursula returns yet again in Kingdom Hearts II, where she revives from the dead and offers Ariel her dream to live up on the surface in exchange for her voice. The plot that follows mirrors the original film, and upon Ursula acquisition of the trident, she becomes a monstrous giant and tries to eliminate Ariel, as well as Sora and friends. However, with their new ally, Prince Eric, Ursula is defeated and sealed yet again.
An apparition of Ursula appears in Dream Drop Distance as the first boss in the game. She is, suddenly attacking Sora and Riku with her tentacles and magic as the heroes were on their way to the Mark of Mastery exam. When Ursula is defeated and sealed, but she used her whirlpool to drag Sora and Riku underwater and towards the Keyhole to Destiny Islands and the entrance to the Sleeping Worlds, beginning their new journey. How Ursula came of be is unknown, though her motives were to simply have revenge on Sora.
She is voiced by Pat Carroll (English) and Kujira (Japanese).
Along with other toons, Urusla had her essence drained by Mizrabel and into wasteland. When Mickey found her and explained it was Mizrabel's fault for this second "banishment", Ursula demanded to know where the witch was to prove there was only room for her. As Mickey didn't know, she was directed to the fortress to scheme against Mizrabel. She asks for a cauldron in exchange for not harming any of the other toons Mickey saved; she keeps her end of the bargain.
Ursula plays a small role in the game, being featured as a boss alongside Flotsam and Jetsam during The Little Mermaid stage.
Stage musical
A stage musical version of the 1989 film debuted in Denver for a pre-Broadway tryout, and in January 2008 opened on Broadway. Actress Sherie Rene Scott originated the live role. The role was later played by Heidi Blickenstaff and Faith Prince. The show closed on Broadway Aug.30, 2009.
In this version, Ursula is King Triton's sister. As revealed in the lyrics of Ursula's song "I Want the Good Times Back," when their father died, the pair were given equal share of the sea plus two magical items. Triton received the trident while Ursula received the magic Nautilus shell. Though the two were to rule the seas together, Ursula's greed and use of dark magic to usurp Triton led to her being banished. Her need for revenge is her motivation for the show.
Unlike the 1989 film, Ursula is depicted as being large but not obese, and the entire subplot where Ursula transforms into a human has been removed entirely. In the show's finale, Ursula is defeated by Ariel, not Eric, when the mermaid destroys Ursula's magical shell, since the climax in which Ursula becomes a gargantuan monster and then impaled by the bow of a ship is too expensive and impractical for a staged show.
Ursula sings new songs in addition to the film's "Poor Unfortunate Souls". These songs are "I Want the Good Times Back," in which Ursula reminisces over her luxurious past, "Her Voice," in which Ursula anticipates the sunset of the third day, and a reprise of "Poor Unfortunate Souls" in which Ursula 'negotiates' an agreement with Triton for Ariel's soul. Ursula also sings briefly at the end of a new sequence called "The Contest," in which Ariel's voice can be heard as the sun sets, but is then merged with Ursula's own voice.
An earlier demo workshop contained different songs written for Ursula that were eventually removed from the production. Ursula's introductory song is "Wasting Away," though it was later replaced by "I Want the Good Times Back". A different reprise of "Poor Unfortunate Souls" was written for Ursula just before she transforms into Vanessa, but since the Vanessa subplot was removed, so was the reprise. Another song, "All Good Things Must End" features Ursula gloating on her victory over Ariel, but the song was removed entirely. Emily Skinner performed as Ursula in this workshop.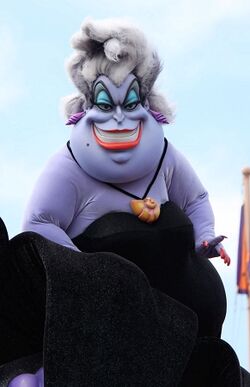 Ursula has been prominently featured in dozens of park shows, parades and merchandise. At the Magic Kingdom, she can be seen in SpectroMagic. In Disneyland Paris, she appears in Mickey and his Magic Halloween Night with other villains. A massive sculpture of Ursula is one of the features of The Little Mermaid's area of Disney's Art of Animation Resort.
She has been used in several promos with other characters for the Disney Halloween events and Water Parks.
In the 2015 rendition of World of Color, Ursula was featured during the brief montage celebrating villains.
The Fantasmic! show debuted in 1992 in the California park, only a few years after The Little Mermaid debuted. Ursula appears in the finale, summoning the powers of the sea to destroy Mickey Mouse, though she herself is ultimately beaten. Originally, a twenty foot Audio-Animatronic Ursula float traveled around her segment in the show on the water, but the air constantly leaked from the blow-up tentacles, and the animatronic as a whole was a maintenance nightmare, so currently the character is only featured via animation projected onto water screens. Different theme parks feature variations from the original, such as in Hollywood Studios version, where Ursula has a much smaller role. In the Tokyo DisneySea version, Ursula's role is far more similar to California's.
Ursula appears as an audio animatronic living the same role as the film. After she strikes her deal with Ariel, the rest of her scenes are showcased on screen where it shows her transforming into Vanessa, becoming a giant and her death.
Ursula is a central character in the annual Halloween-themed fireworks show HalloWishes at the Walt Disney World Magic Kingdom Mickey's Not-So-Scary Halloween Party "hard ticket" event along with Jafar, Oogie Boogie and Maleficent.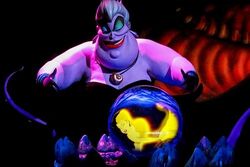 Ursula plays the part she did in the original film, first appearing in the ride's Poor Unfortunate Souls scene, represented by an 8-foot tall, 12-foot wide animatronic, to turn Ariel into a human. Her defeat is one of the last scenes of the attraction.
Ursula's animatronic is one of the most detailed that the Disney Imagineers have ever created. It was designed to move more fluidity than the average AA and gradually apart of the one of the Disney Parks' greatest achievements of the year.
Ursula serves as one of the Fantasyland villains for the Sorcerers of the Magic Kingdom game, where Hades revives her from her death and recruits her to steal a piece of the Crystal of the Magic Kingdom. However, like Maleficent, she plots to double-cross him and take the piece for herself. Once the piece is in her possession, Ursula plots to flood Cinderella Castle and rest of the Magic Kingdom so that she may dominate the park along with the rest of the seas. Likewise, in a similar manner to her transforming into Vanessa, she also disguises herself as Ariel at one point in an attempt to deceive Merlin and the guests into aiding her in her goal.
Ursula returns during the final battle with Hades. In the end, the park guests to defeat Ursula and the other villains by trapping them in the Crystal of the Magic Kingdom.
In Disneyland Paris, Ursula is briefly summoned by Captain Hook to eliminate the living shadow of Peter Pan. She begins to torture it and eventually leads it to the hands of Maleficent.
Quotes
Gallery
Trivia
Ursula is one of the very rare characters (along with Maleficent, Scar, Clayton, Mother Gothel and even Jafar), whose manner of death is shown graphically (she was impaled by a ship's bow, electrocuted by lightning, along with her tentacles grabbing the ship, finally sinking down to the ocean floor, exploding, and having her pieces sink to the ocean floor all on-screen). Usually, characters (heroes/minor characters and villains alike) are either killed off-screen by a fall (such as Ratigan and Gaston) or shown dead without a scratch (Mufasa and Megara).
As her death scene reveals, Ursula actually appears to have a skeleton, despite having an octopus lower body (as octopuses are mollusks they don't have bones).
Ursula is a cecaelia (a half person, usually woman, half octopus) and she was the inspiration for Donald Duck's transformation "outfit" in Kingdom Hearts and Kingdom Hearts II in the Atlantica World. In the TV Show, however, her species was referred to as Octopid.
"Ursula" is a Latin word meaning "Little Female Bear".
Despite being half-octopus, Ursula only has six tentacles. However, if you count her arms as limbs as well, then she actually does have eight limbs altogether.
Although Ursula is usually depicted with light lavender skin, her appearance as a child in both the family photo and the song "Gonna Get My Wish" indicated that her natural skin color was actually light green colored similar to Morgana and their mother.
Saleen, a villainess from the Aladdin TV series had her design based on Ursula's old film concept art.
Ursula's blood's color is dark blue like cephalopods, as shown briefly when Eric's Harpoon scratches her arm, but appears black due to how dark it was.
The final battle with Ursula was intended to play out very differently than in the final film. First, Ariel initially succeeds in getting herself out of Ursula's grip, only for Flotsam and Jetsam to retrieve her. Also, she was to have accidentally killed Flotsam and Jetsam without any feelings of remorse or horror at what she had done, and her manner of death involved being impaled with the Trident by Eric before he passes out. The reason for the change was because Jeffrey Katzenberg had seen the Bruce Willis action thriller film Die Hard during the film's development, and advised that they "make the ending more like Die Hard." On a related note, Ariel's voice was to be released to her after she was killed.

Ursula's death scene in Kingdom Hearts II was actually the original storyboarded version for The Little Mermaid, but was changed to Eric ramming a wrecked ship's splintered bowsprit through Ursula's abdomen.

The animators created the character of Ursula for Bea Arthur, who declined as she was occupied with The Golden Girls. Jennifer Saunders then auditioned for the role of Ursula but was turned down. Then Nancy Marchand, Nancy Wilson, Roseanne, Charlotte Rae and Elaine Stritch were all then considered with the latter eventually being cast in the part. However, Stritch's style clashed with that of lyricist Howard Ashman so Pat Carroll got the part.
Ursula's physical appearance was actually based on that of the drag queen Divine's, who died while the film was still in production.
As mentioned several times in this article, an original draft of the film was actually going to make Ursula King Triton's sister, which would have made her Ariel's aunt, as well as predate Scar as being the first Disney villain to be related to the protagonist biologically had it been kept. Whether it was kept as canon in the main franchise is debatable, although both the TV series and Return to the Sea strongly imply otherwise, where they made an entire race based on Ursula's design and she had a sister and a mother who weren't merpeople, respectively.
In one of the Little Mermaid stories, "Reflections of Arsulu", Ursula disguises herself as Arsulu (an anagram of her original name) a beautiful Blonde mermaid with a red tail and magenta shells. She does this in order to gain entry to Atlantica, where she causes a great deal of discord. Ariel found out about her whole plan and used a mirror and a flock of goldfish to foil Ursula's plan by showing her family Arsulu's real reflection.
Ursula is the last female villain with a female protagonist until Mother Gothel in 2010.
Ursula is the second Disney villain to disguise themselves in order to trick the protagonist of their respective movies. The first being the Evil Queen, who disguised herself as an old hag to trick Snow White and the third being Jafar, who disguised himself as an old beggar to trick Aladdin.
Ursula is the third Disney villain to undergo a size alteration in order to destroy her enemies. The first being Maleficent, the second being Madam Mim, the fourth being Jafar, and the fifth being King Candy. Unlike the other four, however, the only thing about her that actually changes is her size (Maleficent transforms into a dragon, Madam Mim transforms into various animals, including a dragon, Jafar transforms into a giant cobra and later a Genie, and King Candy merges with a cybug).
Ursula's body gestures are modeled after Nora Desmond from Sunset Boulevard.
Ursula is the first Disney villainess to be directly killed by the male protagonist. Maleficent's death is debatable as Prince Philip had a great deal of help from Flora, Fauna and Merryweather.
Ursula is the first major antagonist in an animated Disney film to ever have her own villain song. Originally, villain songs were either sung by henchmen ("The World's Greatest Criminal Mind", "The Siamese Cat Song", etc.), comedic and/or incompetent villains ("(Hi-Diddle-Dee-Dee) An Actor's Life for Me", "Trust in Me", "The Magnificent Madam Mim", etc.), or by protagonists who opposed the villains ("Cruella de Vil", "Phony King of England", etc.), while more serious and less comedic major antagonists (the Evil Queen, Lady Tremaine, Maleficent, Cruella de Vil, Shere Khan, the Horned King etc.) never sang at all.
For less than a second in the original film, when Ursula is transforming into Vanessa you can hear Jodi Benson's voice imitating Pat Caroll's low key laugh, just before becoming Vanessa.
In the Kingdom Hearts series, Ursula is often voiced by Kujira (who's also known for voicing Orochimaru on Naruto). Ironically, Kujira's nickname means "whale" in Japanese, fitting in with the aquatic theme.
Ursula is the third Disney Villain known to have a sibling (preceded by Scar and Hades), and is also the only Disney Villain whose sibling is also a villain (as Scar and Hades were siblings to heroes Mufasa and Zeus, respectively).
References
External links