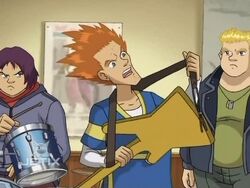 Uriah's Gang are characters and antagonists from the TV series W.I.T.C.H.. They are the bullies at Sheffield Institute who love to cause any trouble. Those greasy punks are always getting themselves social lives, mischief, and detention.
Members
Gallery
Ad blocker interference detected!
Wikia is a free-to-use site that makes money from advertising. We have a modified experience for viewers using ad blockers

Wikia is not accessible if you've made further modifications. Remove the custom ad blocker rule(s) and the page will load as expected.