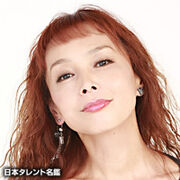 Urara Takano
(高乃麗 Takano Urara, born August 16, 1961) is a Japanese voice actress from Togane, Chiba. Takano runs the talent agency Remax, although she was originally affiliated with Ken Production. She is the mother of actress Anna Kirie (Anna Takayama). Her real name, as well as her former stage name, is Hisako Takayama (高山ひさ子 Takayama Hisako). She and Jennifer Tilly both voice Celia Mae in Monsters, Inc. and Grace in Home on the Range.
Dubbing Role
Ad blocker interference detected!
Wikia is a free-to-use site that makes money from advertising. We have a modified experience for viewers using ad blockers

Wikia is not accessible if you've made further modifications. Remove the custom ad blocker rule(s) and the page will load as expected.