Ad blocker interference detected!
Wikia is a free-to-use site that makes money from advertising. We have a modified experience for viewers using ad blockers

Wikia is not accessible if you've made further modifications. Remove the custom ad blocker rule(s) and the page will load as expected.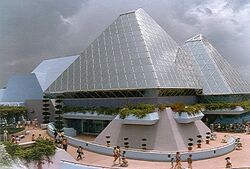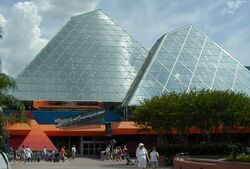 The Upstairs Image Works was the Imagination Pavilion's initial ImageWorks. The complex was housed in the two glass pyramids featured prominently on the roof of the pavilion. The end of the original Journey Into Imagination attraction had a small stairwell to reach the first floor, and subsequent ones to reach other floors. However, once the second incarnation, Journey Into Your Imagination, was created, the entryway was sealed off.
The complex is still in partial use for private events and, until August 2006, it was the ending location for an activity revolving around Kim Possible. Unless being used for a private event, the complex's massive size makes it an ideal as a temporary storage facility.
Activities in Upstairs Image Works
Dreamfinder's School of Drama - Using a greenscreen, guests put themselves into a movie under the direction of Dreamfinder. Choices were a western, a fantasy film, or a science fiction film.
Pin Screens - Massive Pin Tables
Stepping Tones - Guests create music from stepping on color panels
Figment's Coloring Book - Guests colored images featuring Figment and Dreamfinder using electric "paintbrush guns"
Rainbow Corridor - A large tunnel that featured colored lights that followed the guests as they went through, each guest getting a different color.
Electric Philharmonic - By the usage of sensors, guests could conduct an orchestra
| | |
| --- | --- |
| | This page uses content from the English Wikipedia. The article or pieces of the original article was at Upstairs Image Works. The list of authors can be seen in the page history. As with Disney Wiki, the text of Wikipedia is available under the GNU Free Documentation License. |