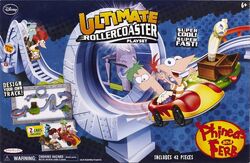 The
Phineas and Ferb Ultimate Roller Coaster
is a toy released in
2010
/
2011
. It is for ages 3 and up.
Description
From the popular Disney show, Phineas and Ferb, the ultimate rollercoaster allows you to build your own invention and experience it just like Phineas and Ferb. The cars whip around the track at dizzying speeds. Customize the track any way you want.
Details
Product Dimensions: 17 x 4 x 11 inches ; 2.4 pounds
ASIN: B004XG1LYQ
Item model number: 27868
Gallery
Ad blocker interference detected!
Wikia is a free-to-use site that makes money from advertising. We have a modified experience for viewers using ad blockers

Wikia is not accessible if you've made further modifications. Remove the custom ad blocker rule(s) and the page will load as expected.