Ad blocker interference detected!
Wikia is a free-to-use site that makes money from advertising. We have a modified experience for viewers using ad blockers

Wikia is not accessible if you've made further modifications. Remove the custom ad blocker rule(s) and the page will load as expected.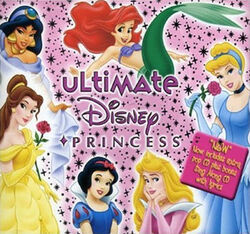 Ultimate Disney Princess is a three-disc compilation album set consisting of a wide range of popular Disney songs, mainly those sang by or related to the Disney Princesses.
The first disc consists of 26 songs that are from the films or originally produced for the Disney Princess franchise. The second disk is made up of instrumental versions of 14 select songs. Finally, the set has a third "bonus disc", which is made up of 16 various covers of select songs by various artists such as Aly and AJ and Christy Carlson Romano, some of which originate from the Disneymania line of CDs.
The album was released in the United Kingdom on September 18, 2006, through EMI and Walt Disney Records.
Track listing
Disc One
Disc Two
"A Whole New World (Instrumental)"
"Reflection (Instrumental)"
"Part of Your World (Instrumental)"
"A Dream is a Wish Your Heart Makes (Instrumental)"
"Beauty and the Beast (Instrumental)"
"Can You Feel the Love Tonight (Instrumental)"
"Once Upon a Dream (Instrumental)"
"Kiss the Girl" (Instrumental)
"I Won't Say I'm in Love (Instrumental)"
"Colors of the Wind (Instrumental)"
"He's a Tramp (Instrumental)"
"A Spoonful of Sugar (Instrumental)"
"So This is Love (Instrumental)"
"Just Around the Riverbend (Instrumental)"
Bonus Disc
"Reflection (Remix)" - Christina Aguilera
"Part of Your World" - Skye Sweetnam
"A Dream is a Wish Your Heart Makes" - Raven-Symoné, Alyson Michalka, Anneliese van der Pol, Ashley Tisdale, Amy Bruckner, Kyla Pratt, Brenda Song, Cole Sprouse, Dylan Sprouse, Orlando Brown, and Ricky Ullman
"Kiss the Girl" - Peter Andre
"I Won't Say (I'm in Love) - The Cheetah Girls
"Colors of the Wind" - Christy Carlson Romano
"If You Can Dream" - Ashley Gearing
(I Wanna Be) Like Other Girls - Atomic Kitten
"If I Never Knew You" - The Cheetah Girls
"Zip-A-Dee-Doo-Dah" - Aly & A.J.
"True to Your Heart - Raven-Symoné ft. Brenda Song
"The Siamese Cat Song" - Hilary Duff and Haylie Duff
"Beauty and the Beast" - Jump 5
See also
| | |
| --- | --- |
| | This page uses content from the English Wikipedia. The article or pieces of the original article was at Ultimate Disney Princess. The list of authors can be seen in the page history. As with Disney Wiki, the text of Wikipedia is available under the GNU Free Documentation License. |