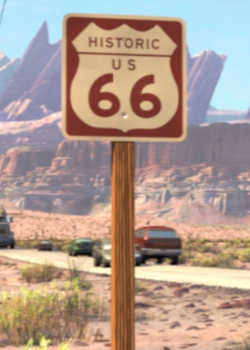 "You know Route 66? It's still here."
―Lightning McQueen
U.S. Route 66, also known as The Mother Road, is a real-world location that appears in Cars.
It is the road where Lightning McQueen gets lost while he is supposed to be traveling to California. He reaches Radiator Springs via this route, catching the attention of the local Sheriff in the process.
Trivia
Route 66 is actually based on the real U.S. Route 66, as it caught the interest of John Lasseter and the production makers of the film.
Though it's not mentioned in the film, Route 66 is also known as "The Main Street of America."
Gallery
Ad blocker interference detected!
Wikia is a free-to-use site that makes money from advertising. We have a modified experience for viewers using ad blockers

Wikia is not accessible if you've made further modifications. Remove the custom ad blocker rule(s) and the page will load as expected.