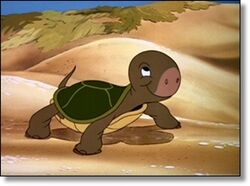 The unnamed Turtle seems to give Pluto a lot of trouble at the beach. Although he only appears in a couple of shorts, including Canine Patrol, Pluto's Housewarming and Pluto's Surprise Package, he bears more than a passing resemblance to a smaller version of Toby Tortoise of Silly Symphony fame.
Appearances
As a member of the Coast Guard, Pluto tries to keep the newborn turtle from off-limits beach territory.
Pluto's brand new beach house is invaded by the wandering turtle, and then Butch the Bulldog, who are both looking for new homes of their own.
A package arrives, containing the turtle, but he has terrible trouble trying to get him into the house.
Gallery