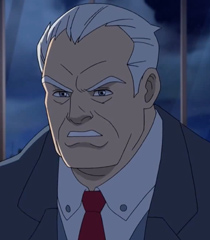 Truman Marsh is the government liaison of the Avengers and a Marvel Comics character that appeared in Avengers Assemble, voiced by William Salyers. The President has signed the New Powers Act in response to the Terrigen Fog creating new Inhumans, giving the government control over the Avengers. Truman ended up replacing Hulk with Red Hulk being he was more focused on the lost HYDRA data over the lives the Avengers saved. However, he was secretly Ultron, who was trying to force the Inhumans to destroy the Avengers.
Personality
Truman takes his job very seriously, believing his own opinion to be more important.
Appearances
Avengers Underground
U-Foes (Episode)
Building the Perfect Weapon
World War Hulk
Behind the Scenes
In the comics, Truman Marsh was the warden of the Vault, and would do anything to prevent the inmates from escaping, even destroying half of New York. Ultimately, he's killed by Venom to prevent this.