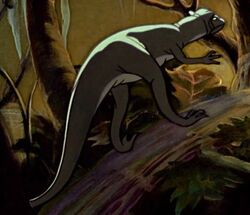 Troodon appeared in the Rite of Spring segment from Disney's Fantasia attacking an Archaeopteryx. While many viewers assume it was an Ornitholestes, the scripts confirm it's a Troodon. Also in the film, Troodon is depicted as having a domed head and horns, since at that time it was assumed to be a Pachycephalosaur.
Troodon was most closely related to dromaeosaurs like Velociraptor, and is a member of the Troodontidae.
Troodon had the largest brain proportionate to body size of any dinosaur.
Like Velociraptor, Troodon had killing claws on its feet for dispatching and restraining prey.
In real life, Troodon was covered in feathers.
In a 2017 review of troodontids revealed that troodon formosus, the type species. Is based on a tooth, is dubious. While most specimens have been transferred to other genera.