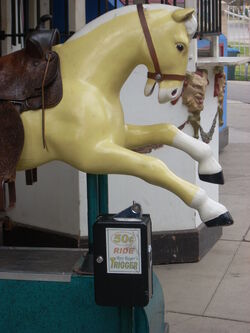 Trigger (originally named Golden Cloud, 1932–July 3, 1965) was a 15.3 hands (63 inches, 160 cm) palomino horse, made famous in American Western films with his owner/rider, cowboy star Roy Rogers. His only Disney role was himself in the "Pecos Bill" segment of Melody Time, where he was labeled as "The Smartest Horse in the Movies."
Ad blocker interference detected!
Wikia is a free-to-use site that makes money from advertising. We have a modified experience for viewers using ad blockers

Wikia is not accessible if you've made further modifications. Remove the custom ad blocker rule(s) and the page will load as expected.