Ad blocker interference detected!
Wikia is a free-to-use site that makes money from advertising. We have a modified experience for viewers using ad blockers

Wikia is not accessible if you've made further modifications. Remove the custom ad blocker rule(s) and the page will load as expected.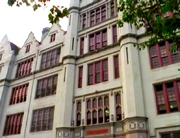 info was provided
http://wizardsofwaverlyplace.wikia.com/wiki/Tribeca_Prep
Tribeca Prep is a fictional magnet school that many characters in Wizards of Waverly Place attend.
Known Faculty
Hershel Laritate — Principal, Marriage and Family teacher
Mr. Clemens — Vice Principal
Jennifer Majorheely — Alex's art teacher (former)
Ms. Marinovich — Alex's art history teacher
Ms. González — Spanish teacher
Justin Russo - Student Body President
Ms. Weston
Ms. Rebred — Chemistry
Clubs
Various extracurricular activities and clubs have been mentioned, seen, or displayed through posters.
Happy Helpers Club (in "Alex Does Good")
Key Club (in "Disenchanted Evening")
Glee Club (in "Disenchanted Evening")
Computer Club (in "Potion Commotion")
Students
August Salvatore
MacGruder
Melissa Merino
Talia Robinson
Wannabe #1
Wannabe #2
Alex Russo (graduated class of 2011)
Dean Moriarty
George
Gigi Hollingsworth
Harper Finkle (graduated class of 2011; briefly enrolled in class of 1957)
Jenny Majorheely (the young Ms. Majorheeley)
Jeremy from Science
Justin Russo (graduated class of 2010, Valedictorian)
Mason Greyback (assumed to have graduated class of 2011)
Max Russo
Maxine Russo (turned back to Max)
Miranda Hampson (assumed to have graduated class of 2009)
Nancy Lukey
Nellie Rodriguez (assumed to have graduated class of 2011)
Riley
Stevie Nichols (did not complete the school year)
T.J. Taylor
Zeke Beakerman (graduated class of 2010)