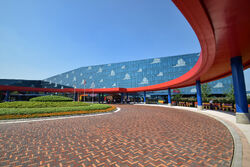 Toy Story Hotel is one of two hotels located within Shanghai Disney Resort. The hotel has two sections, the Sheriff Woody wing and the Buzz Lightyear wing. The hotel, when viewed from above, looks similar to an infinity symbol.
Gallery
Ad blocker interference detected!
Wikia is a free-to-use site that makes money from advertising. We have a modified experience for viewers using ad blockers

Wikia is not accessible if you've made further modifications. Remove the custom ad blocker rule(s) and the page will load as expected.