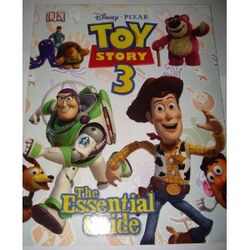 Toy Story 3: The Essential Guide is a 2010 Dorling Kindersley book based on Toy Story 3 published by DK Publishing, Inc.
Product Description
Woody and Buzz are back! And so are all of your Toy Story favorites. Discover the world behind-the-scenes and the lives behind the toys in this ultimate guide of Pixar's first and most classic franchise - Toy Story.
Toy Story 3 introduces new toys, new adventures, and new challenges to Andy's beloved animated friends. Get the inside scoop in this essential guide.
Details
Reading level: Ages 7 and up
Hardcover: 48 pages
Publisher: Dorsley Kindersley/Brady Games May 1, 2010)
Language: English
ISBN-10: 0756663164
ISBN-13: 978-0756663162