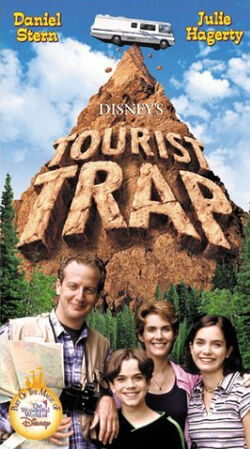 Tourist Trap is a Disney television movie that originally aired as part of The Wonderful World of Disney on April 5, 1998. It was later released in Germany on May 13, 2000 and on video in Hungary on June 28, 2001.
Synopsis
Fascinated by the Civil War in which he devotes all his spare time, George Piper decides to take, for the holidays, his wife and two children in the footsteps of his glorious grandfather, who played a decisive role in the Battle of Cripple Creek. But the journey he imagined motorhome does not go as peacefully as planned.
Cast
Yvonne Campeau ... Daphne
Wally Dalton ... Ranger Ratovich
Garry Davey ... Sheriff Lancaster
Stephen Dimopoulos ... Manager
Rodney Eastman ... Stork
Margot Finley ... Rachel Piper
Brendan Fletcher ... Kyle Early
Paul Giamatti ... Jeremiah Piper
Julie Hagerty... Bess Piper
Chas Harrison ... Private Latimer
Mark Holden ... Town Sheriff
Zook Matthews ... Cowboy Biker
Stephen E. Miller ... Dale Butterworth
Walter Olkewicz ... Mr. Bloom
Jeremy Radick ... Arlo
David Rasche ... Derek Early
Blair Slater ... Josh Piper
Daniel Stern ... George W. Piper
Ken Tremblett ... Theme Park Sheriff
Crystal Verge ... Carla Butterworth
John Aguiar ... French casino patron (uncredited)
Gallery
Ad blocker interference detected!
Wikia is a free-to-use site that makes money from advertising. We have a modified experience for viewers using ad blockers

Wikia is not accessible if you've made further modifications. Remove the custom ad blocker rule(s) and the page will load as expected.