Toto is Dorothy Gale's pet dog in The Wizard of Oz. He is based on the dog of the same name in the book The Wonderful Wizard of Oz.
Return to Oz
In Return to Oz, Toto was with Dorothy on her first trip to Oz, but when she was taken to Dr. Worley, he barked to her as though he knew something was going to happen.
In the end, he manages to track her down after Ozma uses the ruby slippers to send her home to Kansas. After witnessing Ozma in Dorothy's mirror, he joins Dorothy to go outside and play.
Appearances in other media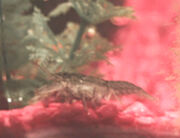 In
The Muppets' Wizard of Oz
, instead of being a dog, he is a king prawn, rescued from
Aunt Em's Diner
by
Dorothy
since
Aunt Em
wouldn't allow her to have a dog. He is one of her few friends in
Kansas
, and she rushes back into the trailer to rescue him.
Once transported to Oz, however, Toto, having broken out of his tank has enlarged, is nude, and speaks with a Spanish accent. Dorothy supplies him with costuming, and he (portrayed by Pepe the King Prawn) tries to become her agent in return.
Other Portrayals
See also
Ad blocker interference detected!
Wikia is a free-to-use site that makes money from advertising. We have a modified experience for viewers using ad blockers

Wikia is not accessible if you've made further modifications. Remove the custom ad blocker rule(s) and the page will load as expected.