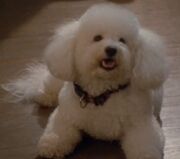 Toto
is the dog of
Galleria Garibaldi
. He is a white dog, and is a Bichon Frise.
Events
The Cheetah Girls
Galleria forgets to walk Toto, and her mother is mad. Along with Juanita Simmons, Dorothea, and Drinka Toto watches the Cheetahs perform on stage. He runs on the stage and dances.
By the end, Toto runs away from Galleria and gets stuck in a hole. Galleria calls her parents, then notifies a cop that her dog is stuck in a hole. The cop calls for backup. Several firemen, policemen and even the other girls from the Cheetah Girls show up. A firemen is finally able to get him out, when Galleria and other girls start singing, to make him move more.
The Cheetah Girls 2
While the Cheetahs go to Spain, they leave Toto at his personal groomer. He is not seen throughout the movie.
Trivia
He is presumambly named after Dorothy's dog frim The Wizard of Oz.