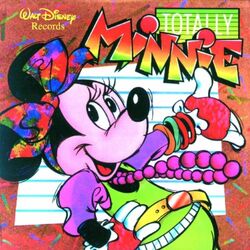 Totally Minnie is a 1986 album based on Totally Minnie.
Track listings
Totally Minnie - Various
Girl Talk - Various
Minnie's Workout - Various
Dear Daisy - Various
Disney Girls' Theme (All Fired Up) - Various
Hey Mickey - Disney Studio Chorus
Break It - BD Jay
Videoactive - Disney Studio Chorus
Let's Get Together - Various
Give All You've Got - Patrick DeRemer
Ad blocker interference detected!
Wikia is a free-to-use site that makes money from advertising. We have a modified experience for viewers using ad blockers

Wikia is not accessible if you've made further modifications. Remove the custom ad blocker rule(s) and the page will load as expected.