Toot, Whistle, Plunk and Boom
Comments

0
19,074pages on
this wiki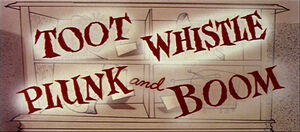 Toot, Whistle, Plunk and Boom
is an educational
Adventures in Music
animated short film produced by
Walt Disney Productions
, and originally released to theaters by
Buena Vista Distribution
on November 10, 1953. It features
Mr. Owl
discussing the study of musical instruments - the subject of the day. Mr. Owl explains to the class (and the viewer) that all music originates from four core sounds: toot (brass), whistle (woodwind), plunk (strings) and boom (percussion).
Summary
Legacy
Toot, Whistle, Plunk, and Boom has been listed on Jerry Beck's 50 Greatest Cartoons list, where in a survey of numerous animation historians and people in the field, the short was voted the 29th best animated short.
Both of the Adventures in Music shorts found a long lasting legacy when footage was re-used for the interstitials of the Disney Sing Along Songs video series.