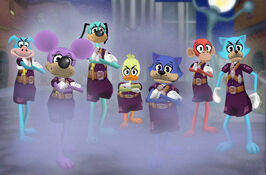 The Toon Resistance is a Toon movement against Cogs in the video game Toontown Online. It is led by Lord Lowden Clear If you visit Whispering Willow, shopkeeper of Talking in Your Sleep Voice Training. At that building if you say to her "Would you like some help?" she will give you the emotion "Resistance Salute".
Ad blocker interference detected!
Wikia is a free-to-use site that makes money from advertising. We have a modified experience for viewers using ad blockers

Wikia is not accessible if you've made further modifications. Remove the custom ad blocker rule(s) and the page will load as expected.