Oh, d-d-d-d-dear!
It has been suggested that this page, or a section of it, be extended.
Once the points are expanded, any user may remove this tag.
"Too Much Jack & Jill" is the series premiere of Goldie & Bear.
Summary
Goldie and Bear teach Jack and Jill how to fetch pails of water so they can reopen their lemonade stand.
Characters
v - e - d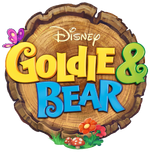 Episodes
Season One: "Fee Fi Fo Shoe" • "Little Gold Riding Hood" • "The Birthday Chair" • "Big Bear" • "Bear's Big Red Shows" • "Goose Sitters" • "Moon Jump" • "The Big Good Wolf" • "The Egg" • "Golden Kickball" • "Too Much Jack & Jill" • "Tiny Tale" • "Abraca Cabbage" • "Furry Godmother" • "Pinocchio-itis" • "The Clubhouse That Jack Built" • "Suddenly Spots" • "A Fish Tale" • "All the King's Men" • "Cheshire Goldie" • "The Troll Tamer" • "The Froggiest Prince of All" • "Bear Who Would Be King" • "When the Gnome is Away" • "Training of the Broom" • "Hickory Dickory Brian" • "Giant Among Us" • "Fetch Skippy Fetch"
Songs
Theme Song • Bein' Nice Is Easy • We Won't Let You Down • Dancing Shoes • We Wanna Be Like You • Playin' With You • The Jacks Club • Big Wide World • We Think • Over The Moon • Magic Dancing Feet • The Perfect Gift • Fishing With Me • Invisible Tango • Prince Charming • Easy to be King • Chores • Training A Broom • Bad Luck Mouse • The Life of a Prince • Tooth Fairy • Home • Things In Common